Sie haben sich erfolgreich zum "Mein Buchentdecker"-Bereich angemeldet, aber Ihre Anmeldung noch nicht bestätigt. Bitte beachten Sie, dass der E-Mail-Versand bis zu 10 Minuten in Anspruch nehmen kann. Trotzdem keine E-Mail von uns erhalten? Klicken Sie
hier
, um sich erneut eine E-Mail zusenden zu lassen.
Captain Linnaeus Tripe
Photographer of India and Burma, 1852-1860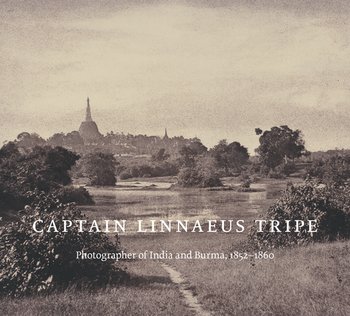 Hardcover
$
65.00
|
£
49.99
(* recommended retail price)
This volume on Captain Linnaeus Tripe, who photographed extensively in India and Burma in the mid-19th century, offers brilliant pictures that display the unusual combination of a surveyor's eye and an artist's passion.

Captain Linnaeus Tripe (1822–1902) occupies a special place in the history of 19th-century photography for the outstanding body of work he produced in India and Burma (now Myanmar) in the 1850s. Introduced to photography by those who saw it as a pastime, he recognized that it could be an effective tool for conveying information about unknown cultures. Under the auspices of the East India Company, he took many photographs of Buddhist and Hindu architecture and dramatic landscapes not seen before in the West. His military training gave his work a striking aesthetic and formal rigor and helped him achieve remarkably consistent results, despite the challenges that India's heat and humidity posed to photographic chemistry. This sumptuous volume features photographs from Tripe's two major expeditions: to Burma in 1854 and to southeast India in 1857. Essays explore the evolution of his practice and the importance of the sites he recorded, while maps and a chronology provide an overview of his life and travels.

Exhibition Itinerary:
National Gallery of Art, Washington September 21, 2014 - January 4, 2015
The Metropolitan Museum of Art, New York February 24 - May 25, 2015
Victoria and Albert Museum, London June 23 - October 11, 2015
---
Hardcover, linen, 228 pages, 30x27, 102 color illustrations
ISBN: 978-3-7913-5381-4
Published:
US August 22, 2014
UK August 22, 2014
Status of delivery: This title is available.