Sie haben sich erfolgreich zum "Mein Buchentdecker"-Bereich angemeldet, aber Ihre Anmeldung noch nicht bestätigt. Bitte beachten Sie, dass der E-Mail-Versand bis zu 10 Minuten in Anspruch nehmen kann. Trotzdem keine E-Mail von uns erhalten? Klicken Sie
hier
, um sich erneut eine E-Mail zusenden zu lassen.
What's in the Egg?
Pop-Up Book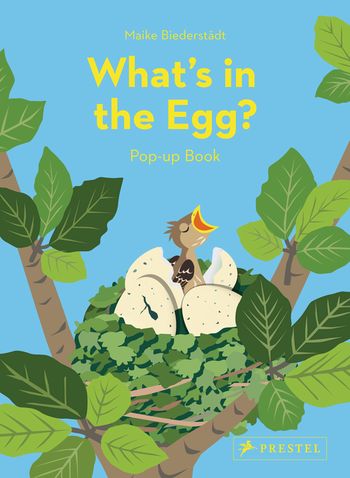 Hardcover
$
19.95
|
£
14.99
(* recommended retail price)
Nature's miracles spring to life in this intricate
pop-up book that shows different animals that
hatch from eggs.
This dynamic book opens with a familiar and joyful sight—a baby bird hatching from an egg that sits in a nest high on a tree. The following pages hold even more delightful surprises, as each spread opens to reveal a different animal and the kind of egg it comes from. Did you know that crocodile mothers walk from the shore to the water holding their eggs in their mouths? That emperor penguin fathers keep their eggs warm by balancing them on their feet? Or that the milkweed plant is the only place a monarch butterfly will lay its eggs? Delicately detailed and boldly colored, every scene is a work of art that depicts its animal's unique markings and natural habitat. As they pore over each elaborately constructed page, young readers will learn valuable information about how different animals hatch from eggs in the natural world.
---
Originally published by: Blossom Books
Hardcover, 12 pages, 16x22
with 6 pop-up illustrations
ISBN: 978-3-7913-7435-2
Published:
US March 17, 2020
UK March 05, 2020
Status of delivery: This title is available.