Sie haben sich erfolgreich zum "Mein Buchentdecker"-Bereich angemeldet, aber Ihre Anmeldung noch nicht bestätigt. Bitte beachten Sie, dass der E-Mail-Versand bis zu 10 Minuten in Anspruch nehmen kann. Trotzdem keine E-Mail von uns erhalten? Klicken Sie
hier
, um sich erneut eine E-Mail zusenden zu lassen.
Big Hedgehog and Little Hedgehog Take an Evening Stroll
Recommended age group: 3 +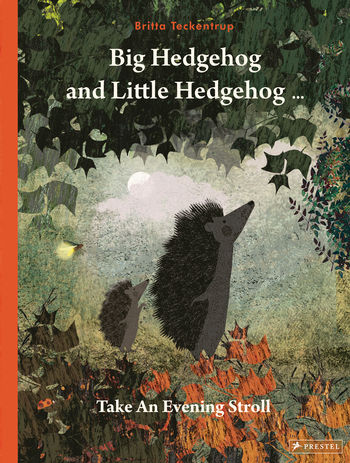 Hardcover
$
14.95
|
£
10.99
(* recommended retail price)
One of the masters of children's picture books returns with a simple and lovely story about taking one's time. Teckentrup's spacious, textured collages, brushed with soft color and populated by a pair of charming hedgehogs, convey the beauty of a natural setting, and the comforting bond between caregiver and child.
It is evening and the big and little hedgehog are slowly making their way home. There is so much to see, and the little one wants to take it all in. Each step of the way the big hedgehog patiently asks, »What are we waiting for now?« The little hedgehog's answers unfold in a series of lush landscapes as the two animals wait for the sun to set, for birds to fly by, for the moon and stars to appear, and for the world around them to prepare for sleep. At last, the little hedgehog is also asleep, carried home in the big hedgehog's arms. Perfect for naptime, bedtime—or for any time that asks that we take a moment and slow down—Teckentrup's signature combination of simple text and soothing illustration will appeal to readers young and old.
---
Original Title: Warte
Originally published by: Jacoby & Stuart
Hardcover, 32 pages, 21,5 x 28,5 cm, 8.5 x 11.2 in
illustrated throughout
ISBN: 978-3-7913-7519-9
Published:
US May 10, 2022
UK March 15, 2022
Status of delivery: This title is available.
Biography
Britta Teckentrup is an award-winning author and illustrator of numerous books, including »Oskar loves . . .« , »Oskar and Mo«, »Before I Wake up«, »The Egg«, »Birds and Their Feathers«, »School«, and »The Seedling That Didn't Want to Grow«, all published by Prestel. She lives in Berlin, Germany.
Born in Hamburg, Britta Teckentrup studied art and illustration at Central Saint Martin's College of Art and Design and the Royal College of Art in London. She is an author and illustrator of numerous books and has received many awards. She lives in Berlin with her Scottish husband and her son Vincent. Her books have been translated into several languages.
More books from the author