Sie haben sich erfolgreich zum "Mein Buchentdecker"-Bereich angemeldet, aber Ihre Anmeldung noch nicht bestätigt. Bitte beachten Sie, dass der E-Mail-Versand bis zu 10 Minuten in Anspruch nehmen kann. Trotzdem keine E-Mail von uns erhalten? Klicken Sie
hier
, um sich erneut eine E-Mail zusenden zu lassen.
Birth of Impressionism
Masterpieces from the Musée d'Orsay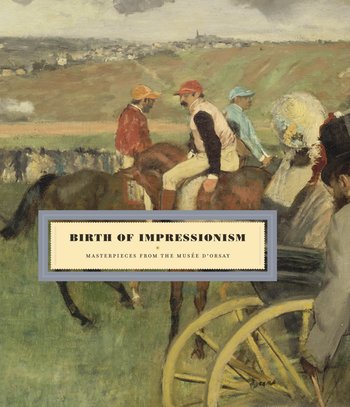 This book tells the story of the beloved Impressionist movement, focusing on the tumultuous period of the 1860s and1870s and the emergence of the "New Painting" out of the Paris Salon.

Lavish reproductions of masterpieces of French painting—from the monumental canvases of Bouguereau to the landscapes and peasant scenes of Millet and Courbet—set the stage for a rich visual narrative that recounts the incubation and evolution of the Impressionist movement. The range of subject matter and techniques reflects the stylistic diversity of the artists who were part of this revolution. Drawn from the incomparable holdings of Paris's Musée d'Orsay, the stunning publication includes paintings by Manet, Monet, Renoir, Pissarro, Cézanne, Morisot, and Degas, among others. The paintings have been selected and thematically grouped to prompt discussion of Impressionism's many facets, including France's turbulent social and political climate at the time, the state-run Salon system and the artistic rivalries it fostered, and aspects of daily life during the Belle Epoque. This companion volume to a major exhibition offers a quintessential collection of Impressionist jewels that will delight all lovers of art.

In the American Association of Museums (AAM) Design Competition 2011 "Birth of Impressionism" won a Honorable Mention.
---
Hardcover, 256 pages, 25,5x29,0, 157 color illustrations, 6 b/w illustrations
ISBN: 978-3-7913-5045-5
Published:
US July 25, 2010
Status of delivery: This title is available.
Other titles like "Birth of Impressionism"
Biography
Stéphane Guégan is Curator at the Musée d'Orsay, Paris.
Alice Thomine-Berrada is Curator at the Musée d'Orsay, Paris.
Guy Cogeval
GUY COGEVAL is President of the Musée d'Orsay and the Musée de l'Orangerie in Paris.