Sie haben sich erfolgreich zum "Mein Buchentdecker"-Bereich angemeldet, aber Ihre Anmeldung noch nicht bestätigt. Bitte beachten Sie, dass der E-Mail-Versand bis zu 10 Minuten in Anspruch nehmen kann. Trotzdem keine E-Mail von uns erhalten? Klicken Sie
hier
, um sich erneut eine E-Mail zusenden zu lassen.
Cheers to TV
Cocktails Inspired by Legendary TV Shows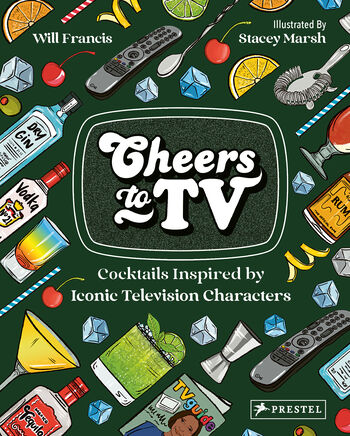 The duo behind Cocktails of the Movies returns with dozens of delicious and easy-to-prepare drinks that will elevate your next TV watch party.
The perfect pop culture pairing, this collection of drinks inspired by iconic television characters blends old and new, spicy and sweet, strong and mellow. Cheers to TV connects sixty cocktails to stars of the small screen. Some are invented specifically for that character, such as the Bloody Ending, inspired by Game of Thrones' Daenerys Targaryen, or the Stringer Bell, an ode to The Wire. Others deliver a TV twist to an established cocktail—a Rusty Nail for Better Call Saul's titular hero, for instance. Some are cocktails created by the show itself—Absolutely Fabulous' Stoli-Bolli is sure to outlive its boozy inventor Patsy Stone. There are mocktails like the Banana Stand (honoring George Michael Bluth from Arrested Development), coffee-tinged drinks such as the Central Perk (for Friends' Rachel), and even a rainbow slushie inspired by Pose's Blanca Evangelista. Along with clever, original illustrations, straightforward recipes, and engaging texts about the shows and characters, the authors cover the mixology basics: bar equipment; types of spirits, liqueurs, juices, and bitters; garnishes and glassware. Whether you prefer appointment television or an hours-long stream-a-thon, this book will up the enjoyment factor. Just remember: sip the cocktail, binge the show.
---
Hardcover, 144 pages, 15,0 x 18,7 cm, 5.9 x 7.4 in
ISBN: 978-3-7913-8822-9
Published:
US September 05, 2023
UK September 05, 2023
Status of delivery: This title is available.
Biography
Will Francis
Will Francis is a writer and commentator on technology and culture. He regularly appears in the media to share his expertise and opinions on how digital and social media are changing the world in which we live, often in unexpected ways.
Stacey Marsh
Stacey Marsh is an illustrator and designer who has worked with many popular household and luxury brands. Her unique patterns and illustrations are now available as a range of textiles and homewares.