Sie haben sich erfolgreich zum "Mein Buchentdecker"-Bereich angemeldet, aber Ihre Anmeldung noch nicht bestätigt. Bitte beachten Sie, dass der E-Mail-Versand bis zu 10 Minuten in Anspruch nehmen kann. Trotzdem keine E-Mail von uns erhalten? Klicken Sie
hier
, um sich erneut eine E-Mail zusenden zu lassen.
Dot Art: Sticker Seurat
Bathers at Asnières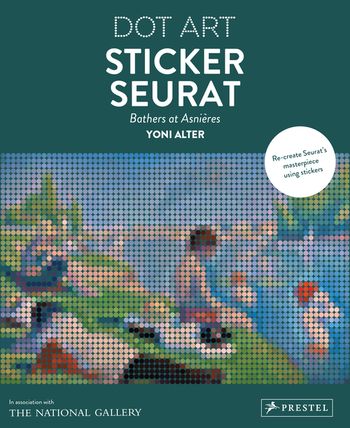 Hardcover
$
14.95
|
£
10.99
(* recommended retail price)
Recreate a Post-Impressionist masterpiece in stickers.
Georges Seurat's Bathers at Asnières is one of the most famous and popular paintings in London's National Gallery. This activity book allows adults and children to understand how the artist used colors to create vibrant and luminous scenes. Opening with a brief informative essay, the book contains thousands of colored round stickers and a poster "canvas" of colored outlines—readers simply need to match the stickers to the outlines found on the poster to recreate the painting. It's not necessary to place each sticker on precisely the right outline. As a result, the finished poster will be its own original work of art. With a handy folder-style flap that allows for easy storage and transportation of the artwork in progress, this activity book is perfect for hours of entertainment, relaxation, or meditation, as well as for unwinding at the end of a busy day.

Published in association with The National Gallery, London
---
Hardcover, 28 pages, 21,5 x 28,0 cm, 14 color illustrations
ISBN: 978-3-7913-8574-7
Published:
US October 08, 2019
UK October 07, 2019
Status of delivery: This title is available.
Biography
Yoni Alter
YONI ALTER is a graphic designer based in London. He has developed a bestselling line of merchandise for the Tate Museum and has created work for Boxpark Shoreditch, ESPN Magazine, the Guardian newspaper, as well as his own popular mobile apps.
More books from the author