Sie haben sich erfolgreich zum "Mein Buchentdecker"-Bereich angemeldet, aber Ihre Anmeldung noch nicht bestätigt. Bitte beachten Sie, dass der E-Mail-Versand bis zu 10 Minuten in Anspruch nehmen kann. Trotzdem keine E-Mail von uns erhalten? Klicken Sie
hier
, um sich erneut eine E-Mail zusenden zu lassen.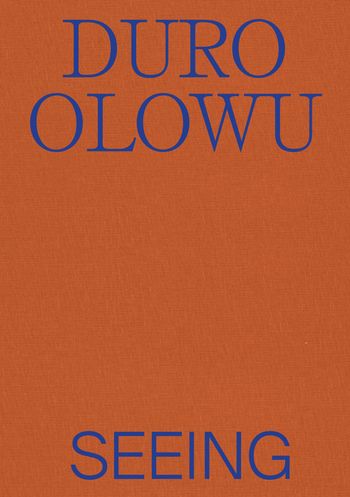 Hardcover
$
40.00
|
£
29.99
(* recommended retail price)
Fashion world leader Duro Olowu applies his creative process and cosmopolitan eye to a major exhibition drawn from Chicago's great art collections.
Nigerian-born British fashion designer Duro Olowu is internationally renowned for his womenswear label launched in 2004 that speaks to a cosmopolitan sensibility informed by his international background and a confident eye for visual disciplines from art to film to popular culture. Olowu's global viewpoint has translated into wildly popular platforms and projects from Instagram postings to revelatory curatorial projects in London and New York that position him at the transcultural crossroads of art, culture, and fashion. Now Olowu turns his gimlet eye on Chicago to curate a show drawn from that metropolis's public and private art collections, anchored by the MCA's holdings. Published on the occasion of Olowu's largest curatorial project, Duro Olowu: Seeing elucidates the designer-cum-curator's creative process as he imagines relationships between artists and objects across time, media, and geography: Naomi Beckwith illuminates Olowu's curatorial process, driven by a voracious appetite for contemporary art and culture brought together in sharp juxtapositions; Valerie Steele situates Olowu's designs within the contemporary fashion world; Ekow Eshun focuses on Olowu's role within Britain's black and Afro-Caribbean creative community; Thelma Golden interviews Olowu about his work as designer, curator, and chronicler of culture and style across the worlds of museums and fashion; and Lynette Yiadom-Boakye creates new fiction for this volume.
---
Hardcover, 416 pages, 14,0 x 20,0 cm, 353 color illustrations
ISBN: 978-3-7913-5948-9
Published:
US March 03, 2020
Status of delivery: This title is available.
Biography
Naomi Beckwith
Naomi Beckwith is Manilow Senior Curator at the Museum of Contemporary Art Chicago. Her publications include the Wittenborn Award–winning book Howardena Pindell (DelMonico Books•Prestel).