Sie haben sich erfolgreich zum "Mein Buchentdecker"-Bereich angemeldet, aber Ihre Anmeldung noch nicht bestätigt. Bitte beachten Sie, dass der E-Mail-Versand bis zu 10 Minuten in Anspruch nehmen kann. Trotzdem keine E-Mail von uns erhalten? Klicken Sie
hier
, um sich erneut eine E-Mail zusenden zu lassen.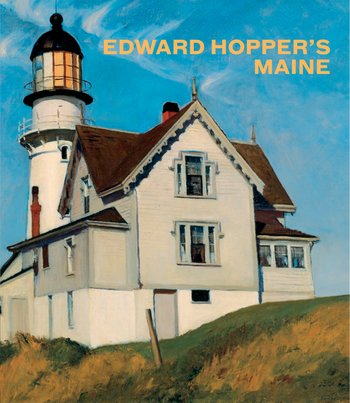 Examining the fruitful summers Hopper spent in Maine between 1914 and 1929, this unique and lavishly illustrated volume features over 100 paintings, watercolors, and drawings, a body of work that is astonishing in its beauty, range, consistency, and importance.

Exhibition Itinerary:
Bowdoin College Museum of Art, Brunswick, Maine, July 15–October 16, 2011

Published in association with Bowdoin College Museum of Art.

This book presents Hopper's compelling images of Maine, including its signature lighthouses, towns, harbors, and coastlines, works that anticipate his mature style and ethos. Among these lyrical and masterful creations, with their carefully calculated compositions and cinematic use of light and shadow, are the plein-air paintings that Hopper created on tiny Monhegan Island off the Maine coast. This series of thirty-two oils is comparable to Monet's haystacks in its meditation on a single, everchanging subject. Hopper's magnificent lighthouse paintings are also freshly treated, as is his mysterious Maine in Fog, a significant painting heretofore considered unfinished. Many of the works in this stunning book, never or rarely exhibited, are brought together for the first time. This publication, with its insightful accompanying essays, represents an exciting new contribution to the appreciation of this major American artist.
---
Hardcover, Linen with jacket, 176 pages, 23,5 x 27,3 cm, 9.3 x 10.7 in, 124 color illustrations, 5 b/w illustrations
ISBN: 978-3-7913-5128-5
Published:
US July 22, 2011
UK July 22, 2011
Status of delivery: This title is available.
Biography
Kevin Salatino
Kevin Salatino is the Hannah and Russel Kully Director of the Art Collections at the Huntington Library, Art Collections, and Botanical Gardens.
Diana Tuite
Diana Tuite is Andrew W. Mellon Curatorial Fellow at the Bowdoin College Museum of Art in Brunswick, Maine.