Sie haben sich erfolgreich zum "Mein Buchentdecker"-Bereich angemeldet, aber Ihre Anmeldung noch nicht bestätigt. Bitte beachten Sie, dass der E-Mail-Versand bis zu 10 Minuten in Anspruch nehmen kann. Trotzdem keine E-Mail von uns erhalten? Klicken Sie
hier
, um sich erneut eine E-Mail zusenden zu lassen.
French Chateau Style
Inside France's Most Exquisite Private Homes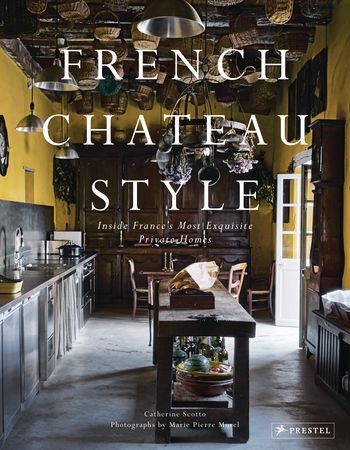 The doors of centuries-old French chateaux are thrown wide open in this sumptuous photographic cross-country tour. Readers will gain entry to a stunning array of stylish private homes within beautiful restored buildings, each one representing very different approaches to décor and preservation.
When she discovered that nearly half of France's 44,000 heritage sites were chateaux in various states of repair, Catherine Scotto embarked on a journey to find out who, exactly, lived in these medieval fortresses and, more importantly, what they were like on the inside. From Normandy to Provence and everywhere in between the owners of these chateaux—including decorators, antique dealers, artists, and collectors—represent the epitome of French culture and taste. Each chateau is presented in double-page full-color spreads that feature alluring interiors and information about the hosts and their design journeys. There's something for everyone here—whether it's homes where simplicity and minimalism reign, rooms as exuberantly busy as a 17th-century tapestry, or interiors transformed by surprising, era-bending feats. Morel's breathtaking, naturally lit photographs of generous kitchens, cozy drawing rooms, spacious bedrooms, ingeniously imagined bathrooms, and intriguing hallways and stairwells offer endless inspiration, while Scotto's engaging text gives readers a feel for the kinds of people who take on such a daunting yet satisfying challenge of restoring a historic building.
---
Originally published by: La Martiniere
Hardcover with jacket, 240 pages, 24,0 x 31,0 cm, 9.4 x 12.2 in
With 190 color photographs
ISBN: 978-3-7913-8802-1
Published:
US June 07, 2022
UK March 15, 2022
Status of delivery: This title is available.
Biography
Catherine Scotto
Catherine Scotto is a journalist and stylist whose clients include Maison Française and Elle Décoration, where she served as editor-in-chief. She writes for the Elle Décoration collection.
Marie Pierre Morel
Marie Pierre Morel is a photographer specializing in interiors, landscapes, and food.