Sie haben sich erfolgreich zum "Mein Buchentdecker"-Bereich angemeldet, aber Ihre Anmeldung noch nicht bestätigt. Bitte beachten Sie, dass der E-Mail-Versand bis zu 10 Minuten in Anspruch nehmen kann. Trotzdem keine E-Mail von uns erhalten? Klicken Sie
hier
, um sich erneut eine E-Mail zusenden zu lassen.
Heat Waves in a Swamp
The Paintings of Charles Burchfield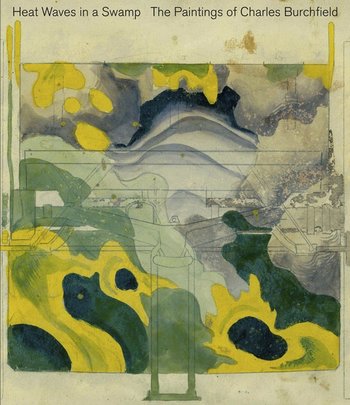 Hardcover
$
49.95
|
£
39.99
(* recommended retail price)
Working almost exclusively in watercolor, Charles Burchfield (1893 -1967) focused on his immediate sorroundings - his garden, the views from his windows, snow turning to slush, sudden atmosperic changes, or the forest at dusk. He often imbued these subjects with highly expressionistic light, creating at times a clear-exed description of the world and at other times, a unique mystical and visionary experience of nature. The book includes drawings from his 1917 sketchbook, "Conventions for Abstract Thoughts"; watercolors from 1916-18 that were the focus of the first one-person exhibition at The Museum of Modern Art, New York, in 1930; camouflage designs from his tour in the army and wallpaper designs from the 1920s; watercolors from the 1940s showing the artist's unique technique of expanding and reworking earlier works by pasting large strips of paper around them to dramatically increase their size; and finally Burchfield's large, transcendental watercolors from the 1950s and 1960s.

This book accompanies an exhibition curated by Robert Gober and organzied by the Hammer Museum in collaboration with the Burchfield Penney Art Center, Buffalo State College.
---
Hardcover, 176 pages, 24x30, 130 color illustrations
ISBN: 978-3-7913-4380-8
Published:
US November 23, 2009
UK September 23, 2009
Status of delivery: This title is available.
Other titles like "Heat Waves in a Swamp"
Biography
Cynthia Burlingham
Cynthia Burlingham is Deputy Director of Collections and Director of the Grunwald Center for the Graphic Arts at the Hammer Museum, Los Angeles.
Robert Gober
Robert Gober is a sculptor whose work has been shown extensively worldwide. In 2001 he was chosen to represent the United States in the 49th Venice Biennale, and in 2007 the Schaulager in Basel, Switzerland, presented a thirty-year retrospective.
Dave Hickey
Dave Hickey, a writer of fiction and cultural criticism, teaches in the creative writing program at the University of Nevada, Las Vegas. His critical essays on art have been collected in "The Invisible Dragon: Four Essays on Beauty" and "Air Guitar: Essays on Art and Democracy".