Sie haben sich erfolgreich zum "Mein Buchentdecker"-Bereich angemeldet, aber Ihre Anmeldung noch nicht bestätigt. Bitte beachten Sie, dass der E-Mail-Versand bis zu 10 Minuten in Anspruch nehmen kann. Trotzdem keine E-Mail von uns erhalten? Klicken Sie
hier
, um sich erneut eine E-Mail zusenden zu lassen.
Hokusai: Thirty-six Views of Mount Fuji
[accordion-fold edition]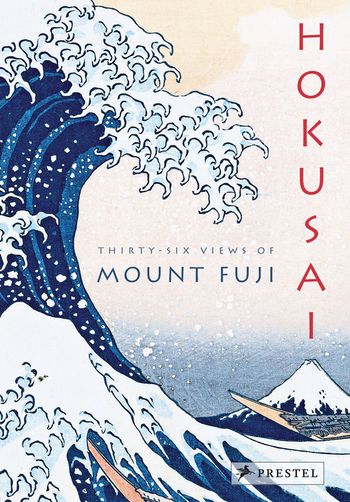 Hardcover
$
35.00
|
£
24.99
(* recommended retail price)
Hokusai's beloved series of woodblock prints is now available in a stunning new format that honors the Japanese bookmaking tradition and illuminates the artist's radiant colors and exquisite lines.
Hokusai's series depicting Mount Fuji is widely considered to be the pinnacle of his career. This beautiful boxed accordionfold edition comprises the full set of forty-six prints (the original thirty-six and ten more that were completed later) and features a luxurious silken binding along with a separate explanatory booklet. The book and booklet are packaged in an elegant slipcase. Devoted entirely to landscapes, Hokusai's series shows Mount Fuji from various viewpoints, framed in different ways. An indefatigable traveler who was passionate about nature, Hokusai explored every vantage point and season at the volcano. He presented it both as a solitary and majestic snow-capped peak and as a smaller object on a distant horizon. Hokusai also portrayed the mountain as an element in Japanese daily life and as an imposing force of nature that can be peaceful and beneficent, or ferocious and unforgiving. These impeccably reproduced prints invite readers to examine Hokusai's virtuosic use of color and composition, his talent for contrasting perspectives, and his interest in the dueling roles of man and nature. An exquisite objet d'art, this volume is the perfect vehicle for appreciating Hokusai's crowning achievement in all its lasting and subtle beauty.
---
Original Title: Les trente-six vues du Mont Fuji
Originally published by: Hazan
Hardcover, 138 pages, 17,3 x 24,5 cm, 6.8 x 9.4 in, 46 color illustrations, 50 b/w illustrations
ISBN: 978-3-7913-8607-2
Published:
US October 09, 2019
UK September 05, 2019
Status of delivery: This title is available.
Other titles like "Hokusai: Thirty-six Views of Mount Fuji"
Biography
Amélie Balcou
Amélie Balcou is a French art historian specializing in East Asian art and Japanese woodblock prints.