Sie haben sich erfolgreich zum "Mein Buchentdecker"-Bereich angemeldet, aber Ihre Anmeldung noch nicht bestätigt. Bitte beachten Sie, dass der E-Mail-Versand bis zu 10 Minuten in Anspruch nehmen kann. Trotzdem keine E-Mail von uns erhalten? Klicken Sie
hier
, um sich erneut eine E-Mail zusenden zu lassen.
I Can Do That Too: A Big Hedgehog and Little Hedgehog Adventure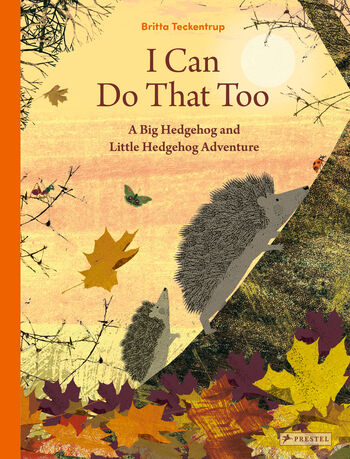 $
14.99
|
£
11.99
(* recommended retail price)
The beloved hedgehog duo returns in a charming story about big ambitions and small victories.
It's a busy day in the woods for Big and Little Hedgehog, who meet all kinds of animal friends, each of whom can do something special that Little Hedgehog wants to do. Ladybug climbs a tree and jumps off a branch; mole digs a hole; fish swim in the pond. Sometimes Little Hedgehog is successful and sometimes he learns that he's just not up to the task. As they find their way home with the help of a turtle, an owl's hoot sends Little Hedgehog off to sleep with one last cry of "I can do that too!"

Filled with Teckentrup's signature, beautifully textured artwork, this gentle book helps kids understand that it's okay to want to do things, and it's okay if you're not quite ready.
---
Original Title: Der große und der kleine Igel. Das kann ich auch!
Originally published by: Jacoby & Stuart
Hardcover, 32 pages, 21,5 x 28,5 cm, 8.5 x 11.2 in, 32 color illustrations
ISBN: 978-3-7913-7564-9
Release date:
Published:
US March 05, 2024
UK March 05, 2024
Biography
Born in Hamburg, Teckentrup studied art and illustration at the Central Saint Martin's College of Art and Design and the Royal College of Art in London. She is an author and illustrator of numerous books and has received many awards. She lives with her Scottish husband and her son Vincent in Berlin.
More books from the author