Sie haben sich erfolgreich zum "Mein Buchentdecker"-Bereich angemeldet, aber Ihre Anmeldung noch nicht bestätigt. Bitte beachten Sie, dass der E-Mail-Versand bis zu 10 Minuten in Anspruch nehmen kann. Trotzdem keine E-Mail von uns erhalten? Klicken Sie
hier
, um sich erneut eine E-Mail zusenden zu lassen.
Into the Deep
An Exploration of Our Oceans
Recommended age group: 7 +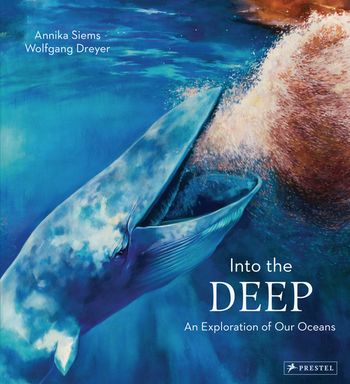 Hardcover
$
25.00
|
£
18.99
(* recommended retail price)
Immerse yourself in a strange and beautiful world as you journey from the beach to the depths of the ocean floor.

Beneath the surface of the ocean lies a mysterious and astounding world that few people ever get to see. This book merges breathtaking art with the latest scientific research to take readers on a fantastic voyage on the submarine Marine Snow, where they meet blue whales, vampire squid, viper fish, and a giant sea spider. They'll learn about bioluminescence, Radiolaria, and coral reefs, and discover incredible facts about the marine world. Annika Siems's illustrations vibrate with color and detail, even as they convey the mystery of a place with scant natural light. From the smallest plankton magnified by thousands, to the most enormous whale, captured on a single page, the sea's denizens are recreated with spectacular precision and artistry. Annika Siems' and Marine biologist Wolfgang Dreyer's texts bring the ocean to life—whether they're describe a transparent jellyfish or the way colors disappear from view as you descend to the ocean floor. A feast for the eye and the mind, this stunning book helps us comprehend a massive, mostly unfamiliar part of our world—one that flourishes with life and beauty.

This book was produced climate neutral.
---
Hardcover, 96 pages, 29x32, 61 color illustrations
ISBN: 978-3-7913-7390-4
Published:
US October 08, 2019
UK September 27, 2019
Status of delivery: This title is available.
Biography
Annika Siems is an award-winning illustrator whose work is featured in numerous books for children and in exhibitions throughout the world. She lives in Hamburg, Germany.
Wolfgang Dreyer served as Director of the Zoological Museum at Kiel University in Germany for two decades. He has written nearly thirty books on marine biology. He lives in Kiel, Germany.