Sie haben sich erfolgreich zum "Mein Buchentdecker"-Bereich angemeldet, aber Ihre Anmeldung noch nicht bestätigt. Bitte beachten Sie, dass der E-Mail-Versand bis zu 10 Minuten in Anspruch nehmen kann. Trotzdem keine E-Mail von uns erhalten? Klicken Sie
hier
, um sich erneut eine E-Mail zusenden zu lassen.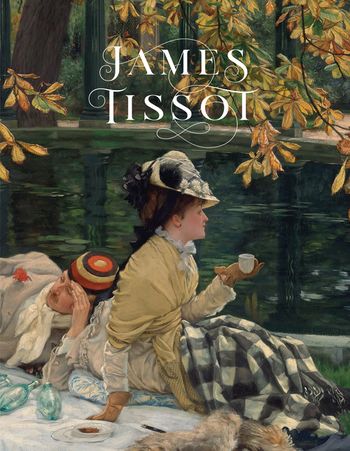 Hardcover
$
75.00
|
£
55.00
(* recommended retail price)
This book explores James Tissot's multifaceted career and provides a fresh perspective on the 19th-century French painter.
James Tissot is best known for his paintings of fashionable women and society life in the late 19th century. Born in Nantes, France, he trained at the École des Beaux-Arts in Paris where he befriended James McNeill Whistler and Edgar Degas. Tissot's career defies categorization and he never formally belonged to the Impressionist circle despite an invitation from Degas. An astute businessman, Tissot garnered commercial and critical success on both sides of the English Channel while defying traditional conventions. He received recognition at the time from patrons and peers, and even his society portraits reveal a rich and complex commentary on Victorian and fin-de-siècle culture. This lavishly illustrated book, featuring paintings, enamels, and works on paper, explores Tissot's life and career from his early period in Nantes to his later years when he made hundreds of spiritual and religious works. The volume also includes essays that introduce new scholarship to redefine Tissot's placement within the narratives of the 19th-century canon.

Exhibition Itinerary:

Legion of Honor, San Francisco: October 12, 2019–February 9, 2020

Musée d'Orsay, Paris: March 23–July 19, 2020
---
Hardcover, 320 pages, 24,0 x 30,5 cm, 250 color illustrations, 25 b/w illustrations
ISBN: 978-3-7913-5919-9
Published:
US October 01, 2019
UK October 03, 2019
Status of delivery: This title is available.
Biography
Melissa E. Buron
MELISSA E. BURON is Director of the Art Division at the Fine Arts Museums of San Francisco.

MARINE KISIEL is Curator at the Musée d'Orsay, Paris.

KRYSTYNA MATYJASZKIEWICZ is an independent art historian and specialiston James Tissot.

PAUL PERRIN is Curator at the Musée d'Orsay, Paris.

CYRILLE SCIAMA is Curator at the Musée d'Arts de Nantes.