Sie haben sich erfolgreich zum "Mein Buchentdecker"-Bereich angemeldet, aber Ihre Anmeldung noch nicht bestätigt. Bitte beachten Sie, dass der E-Mail-Versand bis zu 10 Minuten in Anspruch nehmen kann. Trotzdem keine E-Mail von uns erhalten? Klicken Sie
hier
, um sich erneut eine E-Mail zusenden zu lassen.
Jean-Michel Basquiat
Now's the Time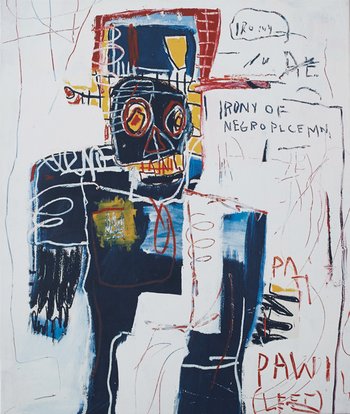 Hardcover
$
49.95
|
£
39.99
(* recommended retail price)
This book is published by DelMonico Books in association with the Art Gallery of Ontario, Toronto.
From his early years spray painting the walls of lower Manhattan to his first solo show in 1982 and his untimely death at the age of 27 in 1988, Jean-Michel Basquiat has become a symbol of the 1980s New York art scene.

Now, more than a quarter-century since his death, this book considers Basquiat's works in light of their transformative power. Exquisitely reproduced full-page color illustrations of his paintings cover the full thematic range of Basquiat's work. From the autobiographical elements of "Untitled" (1981) and the powerful critique of racial justice that is "Irony of a Negro Policeman" to an exploration of black heroes, "Untitled" (1982) and the tongue-in-cheek social commentary of "A Panel of Experts", Basquiat's limitless palette of observation, criticism, and cultural references endows his art with lasting and provocative power. Author Dieter Buchhart explores how Basquiat's success paved the way for an entire generation of black artists and how street culture has spread into popular culture. Texts by curators, art dealers, and cultural critics discuss the significance of Basquiat's oeuvre and show how his approach and subject matter continue to influence artists around the world.
---
Hardcover, 228 pages, 24,0 x 28,0 cm, 9.4 x 11.0 in, 150 color illustrations
ISBN: 978-3-7913-5457-6
Published:
US June 18, 2018
UK June 18, 2018
Status of delivery: This title is available.
Biography
Dieter Buchhart
Dieter Buchhart is an art critic for Kunstforum International and the author of Keith Haring: The Political Line (DelMonico Books·Prestel).
Franklin Sirmans
Franklin Sirmans is the Terri and Michael Smooke Curator and Department Head of Contemporary Art at the Los Angeles County Museum of Art.
More books from the author