Sie haben sich erfolgreich zum "Mein Buchentdecker"-Bereich angemeldet, aber Ihre Anmeldung noch nicht bestätigt. Bitte beachten Sie, dass der E-Mail-Versand bis zu 10 Minuten in Anspruch nehmen kann. Trotzdem keine E-Mail von uns erhalten? Klicken Sie
hier
, um sich erneut eine E-Mail zusenden zu lassen.
Kay Sage
Catalogue Raisonné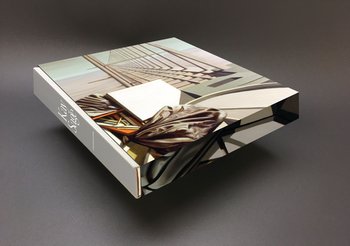 Encompassing the entire career of the American surrealist painter Kay Sage, this catalogue raisonné features all her known mature works and the latest scholarship on a brilliant artist.
While her career as a painter was often eclipsed during her lifetime by that of her husband, Yves Tanguy, recent scholarship posits that the influence was mutual and that Kay Sage's work was distinct from Tanguy's. The full extent of Sage's talent is laid bare in this stunning slip-cased book that includes many works that have not been viewed publicly since the 1940s and 1950s. An insightful essay explores Sage's involvement with the Surrealists and her marriage to Tanguy, as a partner and sounding board. A generously illustrated chronology includes personal and archival material that reveals much about her life and practice. The paintings, collages, and works on paper—haunting, evocative, and original—are reproduced to full effect, each with comprehensive provenance and exhibition history. Impeccably researched and engagingly written, this monograph brings to life an intrepid and hugely gifted artist whose talent is long overdue for recognition.
---
Hardcover, linen, 520 pages, 24,8 x 26,0 cm, 9.8 x 10.2 in
with slipcase
ISBN: 978-3-7913-5785-0
Published:
US October 16, 2018
UK September 21, 2018
Status of delivery: This title is available.
Biography
Jessie Sentivan
Jessie Sentivan is an independent art historian and curator. She has held positions at the Williams College Museum of Art and the Arthur Dove Catalogue Raisonné Project, and was a contributing editor of the Hans Hofmann Catalogue Raisonné of Paintings.
Stephen Robeson Miller has written extensively about Kay Sage and her art in publications such as Art International, Dada & Surrealism, and various galleries catalogues around the world. He was co-curator of the landmark traveling exhibition Double Solitaire: The Surreal Worlds of Kay Sage and Yves Tanguy in 2011. He is also the author of Kay Sage: The Biographical Chronology and Four Surrealist One-Act Plays. His research papers on Sage, including interviews, are located at the Archives of American Art, Smithsonian Institution.

Mary Ann Caws is Distinguished Professor Emerita of Comparative Literature, English, and French and Resident Professor at the Graduate School of the City University of New York. She is an Officier of the Palmes académiques, a Chevalier dans l'ordre des Arts et des Lettres, and a recipient of the Albert Nelson Marquis Lifetime Achievement Award. She is the author of The Eye in the Text: Essays on Perception, The Modern Art Cookbook, Blaise Pascal: Miracles and Reason, The Surrealist Look: an Erotics of Encounter, and Creative Gatherings: The Meeting Places of Modernism, among others.