Sie haben sich erfolgreich zum "Mein Buchentdecker"-Bereich angemeldet, aber Ihre Anmeldung noch nicht bestätigt. Bitte beachten Sie, dass der E-Mail-Versand bis zu 10 Minuten in Anspruch nehmen kann. Trotzdem keine E-Mail von uns erhalten? Klicken Sie
hier
, um sich erneut eine E-Mail zusenden zu lassen.
Ken Price Sculpture
A Retrospective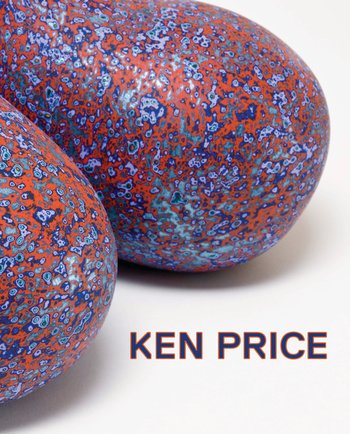 This definitive book on American sculptor Ken Price presents a comprehensive overview of the artist's exquisite and innovative work.

For more than 50 years, Ken Price created remarkable and unique objects that have redefined contemporary sculpture practice. Published in conjunction with a LACMA-organized retrospective exhibition, this monograph features superbly reproduced color photographs of Price's vibrant and anthropomorphic work, which has garnered a cultlike following among artists, critics, and scholars since the 1960s. Also included are essays tracing the arc of Price's career and addressing his development as a colorist; a compilation of in-depth interviews from 1980 to 2011; and an appreciation by his friend Frank Gehry, who is also designing the exhibition. An illustrated checklist and chronology as well as an anthology of historical texts from the 1960s allow readers to envision the remarkable trajectory of Price's work. Examining the artist's prolific career and influence, this authoritative book on Price will serve as the catalyst for further scholarly investigation.

"Ken Price Sculpture: A Retrospective was the most beautiful exhibition catalogue of the year." -- Tyler Green, Artinfo.com

"If there's any justice in the world, [this catalogue] will win awards for its arresting style." —Art in America
---
Hardcover, Linen with jacket, 280 pages, 24,8 x 30,5 cm, 9.8 x 12.0 in, 254 color illustrations, 46 b/w illustrations
ISBN: 978-3-7913-5255-8
Published:
US September 01, 2012
UK September 01, 2012
Status of delivery: This title is available.
Biography
Stephanie Barron
Stephanie Barron is Senior Curator and Head of the Department of Modern Art at the Los Angeles County Museum of Art.
Lauren Bergman
LAUREN BERGMAN is Assistant Curator of Modern Art at the Los Angeles County Museum of Art.
Dave Hickey
Dave Hickey, a writer of fiction and cultural criticism, teaches in the creative writing program at the University of Nevada, Las Vegas. His critical essays on art have been collected in "The Invisible Dragon: Four Essays on Beauty" and "Air Guitar: Essays on Art and Democracy".
More books from the authors