Sie haben sich erfolgreich zum "Mein Buchentdecker"-Bereich angemeldet, aber Ihre Anmeldung noch nicht bestätigt. Bitte beachten Sie, dass der E-Mail-Versand bis zu 10 Minuten in Anspruch nehmen kann. Trotzdem keine E-Mail von uns erhalten? Klicken Sie
hier
, um sich erneut eine E-Mail zusenden zu lassen.
Lahore
A Framework for Urban Conservation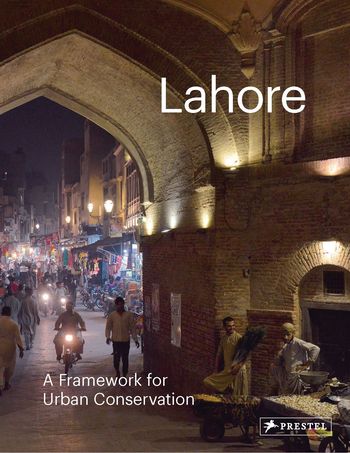 Hardcover
$
60.00
|
£
45.00
(* recommended retail price)
Explore the magnificent, ancient city of Lahore, Pakistan, and learn how its culture, infrastructure, and economy are being revitalized for the 21st century.
The cultural capital of Pakistan, and one of the world's most historically fascinating cities—Lahore—has retained much of its historic heritage despite centuries of turbulence. Today it remains a vibrant epicenter of commercial and cultural activity. Since 2007 the Aga Khan Trust for Culture has been working to preserve the walled city of Lahore. This book explores every aspect of that effort, including drafting a strategic master plan, mapping strategies for conserving monuments, gardens, and temples, renovating neighborhoods and landscapes, and developing environmental solutions. It focuses on specific sites, such as the breathtaking Shahi Hammam, or Royal Bath; the Shahi Guzargah heritage trail; the fabled Imperial Kitchen; Lahore Fort—a World Heritage site—and the Badshahi and Wazir Khan mosques. Filled with illustrations, maps, architectural plans, and detailed information about the engineering and conservation projects, this book is an unparalleled exploration of urban renaissance at its most ambitious, as well as a thrilling introduction to one of the world's most important cultural cities.
---
Hardcover with jacket, 400 pages, 22,0 x 28,0 cm, 8.7 x 11.0 in, 614 color illustrations
ISBN: 978-3-7913-5856-7
Published:
US November 12, 2019
UK November 12, 2019
Status of delivery: This title is available.
Biography
Philip Jodidio
PHILIP JODIDIO has published numerous books on architecture and art including Afghanistan: Preserving Historic Heritage and Cairo: Renewing the Historic City (both by Prestel). He lives in Lausanne, Switzerland.

CONTRIBUTORS: The publication contains contributions from numerous experts in the urban planning, architectural conservation, and heritage sectors with intimate knowledge of these sites, including the team of the Aga Khan Trust for Culture that undertook the project work described.
More books from the author