Sie haben sich erfolgreich zum "Mein Buchentdecker"-Bereich angemeldet, aber Ihre Anmeldung noch nicht bestätigt. Bitte beachten Sie, dass der E-Mail-Versand bis zu 10 Minuten in Anspruch nehmen kann. Trotzdem keine E-Mail von uns erhalten? Klicken Sie
hier
, um sich erneut eine E-Mail zusenden zu lassen.
Le Corbuffet
Edible Art and Design Classics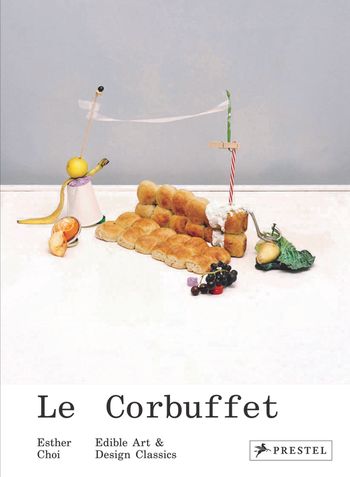 Hardcover
$
40.00
|
£
29.99
(* recommended retail price)
Home-cooking meets highbrow art in this one-of-a-kind cookbook that uses food to create edible interpretations of modern and contemporary sculptures, paintings, architecture, and design.
It started as a series of dinner parties that Esther Choi—artist, architectural historian, and self-taught cook—hosted for friends after she stumbled across an elaborate menu crafted for Walter Gropius in 1937. Combining a curiosity about art and design with a deeply felt love of cooking, Choi has assembled a playful collection of recipes that are sure to spark conversation over the dinner table. Featuring Choi's own spectacular photography, these sixty recipes riff off famous artists or architects and the works they are known for. Try Quiche Haring with the Frida Kale-o Salad, or the Robert Rauschenburger followed by Flan Flavin. This cookbook is strikingly beautiful and provocative as it blurs the boundaries between art and everyday life and celebrates food in an engaging and imaginative way.
---
Hardcover, 256 pages, 20,0 x 28,0 cm, 7.9 x 11.0 in, 60 color illustrations
ISBN: 978-3-7913-8472-6
Published:
US October 01, 2019
UK October 03, 2019
Status of delivery: This title is available.
Biography
Esther Choi
ESTHER CHOI is an artist and writer, whose photographs have appeared in T: The New York Times Style Magazine, Another Magazine, and Dazed and Confused. She is the co-editor of the collected volumes Architecture is All Over and Architecture at the Edge of Everything Else. Her writing has appeared in publications such as Artforum, Architectural Review, and PIN-UP. She lives in Brooklyn, NY.