Sie haben sich erfolgreich zum "Mein Buchentdecker"-Bereich angemeldet, aber Ihre Anmeldung noch nicht bestätigt. Bitte beachten Sie, dass der E-Mail-Versand bis zu 10 Minuten in Anspruch nehmen kann. Trotzdem keine E-Mail von uns erhalten? Klicken Sie
hier
, um sich erneut eine E-Mail zusenden zu lassen.
Modern Forms
An Expanded Subjective Atlas of 20th Century Architecture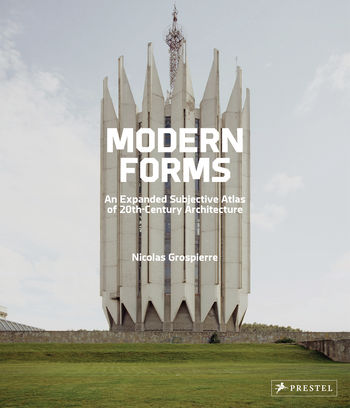 Hardcover
$
50.00
|
£
35.00
(* recommended retail price)
This revised edition of Grospierre's celebrated tour of modernist architecture has been expanded beyond Europe and North America to a truly global reach, featuring buildings in Southeast Asia, Australia, Africa and South America. Featuring new and revised texts from Barbican, MoMA and independent curators, this book offers intriguing insights into the history of modernist design, the origins of architectural photography and the reasons why architectural forms repeat in otherwise dissimilar countries.
Is form still function? How "modern" is modernist architecture? And what has happened to the style's foundational utopian ideals? Nicolas Grospierre's masterful photographic survey catalogues both famous and little-known buildings, challenging the viewer to consider modernist architecture's complicated legacy. Drawn from Grospierre's ever-expanding archive documenting his travels, these large-format photographs of almost 250 buildings are arranged purely by their shapes, prioritizing form over function and location to give a unique perspective of global structures. Uniform in perspective, and presented without comment, Grospierre's photographs allow viewers to discover details and colors that a more narrative-focused presentation would prohibit. The work of nearly a quarter of a century, this ever-expanding collection reflects a labor of love, a photographer's deep obsession, and a celebration of buildings both iconic and mundane all over the world.



*The publisher wishes to acknowledge an error included in the expanded version of Modern Forms, which slipped its attention prior to going to press. The captions to the photographs of buildings located in Crimea are described as, 'Crimea, Russia'. At the time of editing and printing, September 2021, while Crimea was de facto a part of Russia, it remained de jure part of Ukraine. The editors of the book would like to stress how utterly they condemn the annexation of Crimea by Russia, Russian aggression toward the sovereign territory of Ukraine and that they by no means question the territorial integrity of Ukraine by dint of this technical error. The author has stated his perennial fascination with the many manifestations of modernism worldwide and, independently of state, territory, or politics, always considered the art form an expression of peace.*
---
Hardcover with jacket, 288 pages, 24,0 x 28,0 cm, 250 color illustrations
ISBN: 978-3-7913-8810-6
Published:
US June 07, 2022
UK May 25, 2022
Status of delivery: This title is available.
Other titles like "Modern Forms"
Biography
Nicolas Grospierre
Nicolas Grospierre's awards include the Golden Lion at the 2008 Venice Architecture Biennale, the Polityka Passport Award in 2011, the Prize of the Ministry of Culture of the Republic of Poland in 2009, and grants from the Graham Foundation of Chicago in 2014 and 2020. He is the author of Modern Forms and Modern Spaces (Prestel).
Links