Sie haben sich erfolgreich zum "Mein Buchentdecker"-Bereich angemeldet, aber Ihre Anmeldung noch nicht bestätigt. Bitte beachten Sie, dass der E-Mail-Versand bis zu 10 Minuten in Anspruch nehmen kann. Trotzdem keine E-Mail von uns erhalten? Klicken Sie
hier
, um sich erneut eine E-Mail zusenden zu lassen.
Natur. Ästhetik. Design dt./engl.
Nature. Aesthetics. Design dt./engl.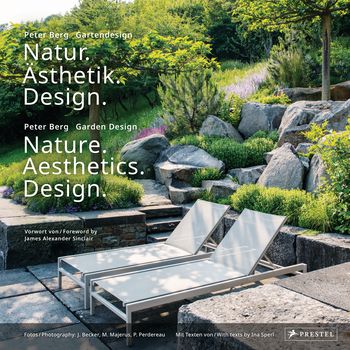 Garden design that is innovative, sustainable and close to nature.
A good eye and well-trained senses are essential requirements for aesthetic garden design. Peter Berg's philosophy takes a very special approach: he expects his gardens to be both sustainable and natural – which the use of natural stone, in particular, is intended to ensure. They should be reduced to just a few materials, and along with the color scheme, radiate a pleasant inner calmness. Each garden should also meet the individual needs of its owners. His concept has resulted in gardens that are unique and whose fascination lies in the clarity of their design. This splendid volume presents the most beautiful of them for the first time.
---
Originally published by: DVA Bildband
Hardcover, 240 pages, 29,5 x 29,5 cm
Mit 212 Farbabbildungen und 14 Plänen
ISBN: 978-3-7913-8763-5
Published:
US March 15, 2021
UK March 15, 2021
Status of delivery: This title is available.
Biography
Peter Berg
Peter Berg is a garden designer, public speaker, and author. With his company GartenLandschaft Berg & Co., he combines the planning and maintenance of gardens based on the model of Japanese horticulture. He has received several awards for his garden design, including the ELCA Trend Prize.
After completing his studies at the Academy of Art in Düsseldorf, Jürgen Becker devoted himself to taking photographs of architecture and interior design and to travel photography. Since the 1990's he has concentrated on photographing gardens and his work has been published in numerous famous international magazines and has been used for books and calendars.