Sie haben sich erfolgreich zum "Mein Buchentdecker"-Bereich angemeldet, aber Ihre Anmeldung noch nicht bestätigt. Bitte beachten Sie, dass der E-Mail-Versand bis zu 10 Minuten in Anspruch nehmen kann. Trotzdem keine E-Mail von uns erhalten? Klicken Sie
hier
, um sich erneut eine E-Mail zusenden zu lassen.
Now You See Me
An Introduction to 100 Years of Black Design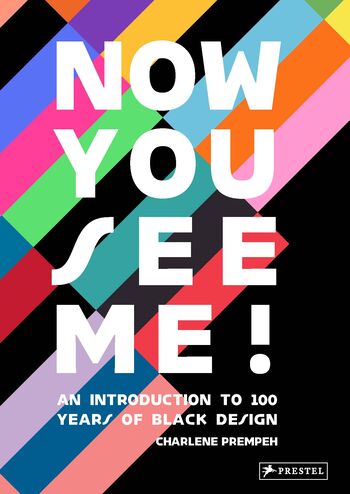 $
35.00
|
£
24.99
(* recommended retail price)
You've seen their work—but have you seen them? Black designers have been working in every major industry but, for the past decades, have not been given the spotlight anywhere near to the extent of their white counterparts. This vibrant and wide-ranging book, full of photographs and illustrations, aims to correct that oversight, bringing a century of Black designers and their work into focus.

Organized into three sections focusing on Fashion, Architecture and Graphic Design, Prempeh uses the pioneering work of key figures from the twentieth and twenty-first century to explore important aspects of how Black design has been perceived within culture and society. From the necessity of the side-hustle, to interrogating the value placed on Black design, from reclaiming traditions, to exploring how design can be a form of protest, this book brings to the fore the stories of figures such as Ann Lowe, Dapper Dan, Norma Sklarek, Francis Kéré, Emory Douglas and Liz Montague to unpick what it means to be a Black designer.
---
Hardcover, 240 pages, 17,0 x 24,0 cm, 6.7 x 9.4 in, 150 color illustrations
ISBN: 978-3-7913-8847-2
Published:
US February 06, 2024
UK October 10, 2023
Status of delivery: This title is available.
Biography
Charlene Prempeh
CHARLENE PREMPEH is founder of A Vibe Called Tech, a Black-owned creative agency established to explore the intersection of untapped creativity, culture and innovation. She was previously a marketing consultant with some of the UK's most prominent media platforms and art institutions including the BBC, The Guardian and Frieze. Prempeh's writing has appeared in publications including the Financial Times (where she is a contributing editor and has a column titled 'The Kudos Project') and I-D. She lives in London, England.