Sie haben sich erfolgreich zum "Mein Buchentdecker"-Bereich angemeldet, aber Ihre Anmeldung noch nicht bestätigt. Bitte beachten Sie, dass der E-Mail-Versand bis zu 10 Minuten in Anspruch nehmen kann. Trotzdem keine E-Mail von uns erhalten? Klicken Sie
hier
, um sich erneut eine E-Mail zusenden zu lassen.
Nuova Oggettività Arte in Germania
al tempo della Repubblica di Weimar 1919-1933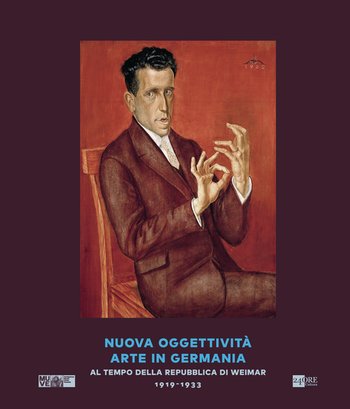 This beautifully illustrated book brings together a dazzling variety of works and provides fresh insight into artistic expressions of life in the Weimar Republic.

Between the end of World War I and the Nazi rise to power, Germany's Weimar Republic (1919-1933) was a thriving laboratory of art and culture. As the country experienced unprecedented and often tumultuous social, economic, and political upheaval, many artists rejected Expressionism in favor of a new realism to capture this emerging society. Dubbed Neue Sachlichkeit— New Objectivity—its adherents turned a cold eye on the new Germany: its desperate prostitutes and crippled war veterans, its alienated urban landscapes, its decadent underworld where anything was available for a price. Showcasing 150 works by more than 50 artists, this book reflects the full diversity and strategies of New Objectivity. Organized around five thematic sections, it mixes photography, works on paper, and painting to bring them into a visual dialogue. Artists such as Otto Dix, George Grosz, and Max Beckmann are included alongside Christian Schad, Alexander Kanoldt, Georg Schrimpf, August Sander, Lotte Jacobi, and Aenne Biermann. Also included are essays that examine the politics of New Objectivity and its legacy; its relation to international art movements of the time; the context of gender roles and sexuality; and the influence of new technology and consumer goods.
Italian Edition
---
Hardcover, Linen with jacket, 360 pages, 24,8x29, 253 color illustrations, 33 b/w illustrations
ISBN: 978-3-7913-5432-3
Published:
US April 01, 2015
UK March 23, 2015
Status of delivery: This title is available.
Biography
Stephanie Barron
Stephanie Barron is Senior Curator and Head of the Department of Modern Art at the Los Angeles County Museum of Art.
Sabine Eckmann
Sabine Eckmann is the William T. Kemper Director and Chief Curator of the Mildred Lane Kemper Art Museum in St. Louis, Missouri.
More books from the authors