Sie haben sich erfolgreich zum "Mein Buchentdecker"-Bereich angemeldet, aber Ihre Anmeldung noch nicht bestätigt. Bitte beachten Sie, dass der E-Mail-Versand bis zu 10 Minuten in Anspruch nehmen kann. Trotzdem keine E-Mail von uns erhalten? Klicken Sie
hier
, um sich erneut eine E-Mail zusenden zu lassen.
Painted in Mexico, 1700-1790
Pinxit Mexici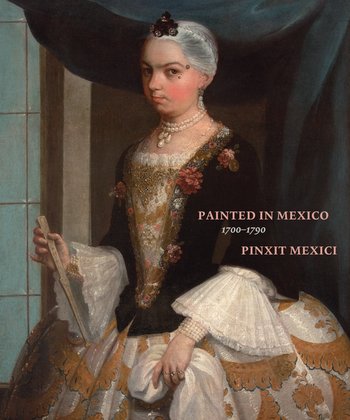 This beautiful and groundbreaking book
provides the first in-depth reassessment
of 18th-century Mexican painting, making
accessible an extraordinary body of images,
alongside compelling new scholarship.
This stunning volume represents the first serious effort to reposition the history of 18th-century Mexican painting, a highly vibrant period marked by major stylistic changes and the invention of new iconographies. Exquisitely illustrated with newly commissioned photography of never-before-published artworks, the book provides a broad view of the connections of Mexican painting with transatlantic artistic trends and emphasizes its own internal developments and remarkable pictorial output. During this time painters were increasingly asked to create mural-size paintings to cover the walls of sacristies, choirs, staircases, cloisters, and university halls among others. Significantly, the same artists also produced portraits, casta paintings (depictions of racial mixing), folding screens, and finely rendered devotional images, attesting to their extraordinary versatility. Authored by leading experts in the field, the book's essays address the tradition and innovation of Mexican painting, the mobility of pictures within and outside the viceroyalty, the political role of images, and the emphasis on ornamentation. Rounding out this volume are over 130 catalogue entries that offer new and authoritative interpretations.
---
Hardcover with jacket, 512 pages, 25,4 x 30,5 cm, 409 color illustrations, 14 b/w illustrations
ISBN: 978-3-7913-5677-8
Published:
US October 15, 2017
UK October 15, 2017
Status of delivery: This title is available.
Biography
ILONA KATZEW is Curator and Department Head, Latin American Art, Los Angeles County Museum of Art. She is recognized as one of the top curators and scholars of Spanish colonial art in the United States. Her books include Casta Painting: Images of Race in Eighteenth-Century Mexico, Race and Classification: The Case of Mexican America, and Contested Visions in the Spanish Colonial World.

LUISA ELENA ALCALÁ is Associate Professor at the Universidad Autónoma de Madrid. She has organized exhibitions on viceregal art and published extensively on the Jesuits in Spanish America, Mexican colonial art, and religious imagery. Her books include Fundaciones jesuíticas en Iberoamérica and Painting in Latin America, 1550–1820, coedited with Jonathan Brown.

JAIME CUADRIELLO is Professor at the Instituto de Investigaciones Estéticas, Universidad Nacional Autónoma de México, Mexico City. Recognized
as a leading expert in his field, he has curated exhibitions and written extensively on Mexican colonial art. His books include Los pinceles de la historia: El origen del reino de la Nueva España and The Glories of the Republic of Tlaxcala: Art and Life in Viceregal Mexico.

RONDA KASL is Curator of Latin American Art at the Metropolitan Museum of Art, New York. She previously served as Senior Curator of Painting
and Sculpture before 1800 at the Indianapolis Museum of Art. Her books include Sacred Spain: Art and Belief in the Spanish World and The Making of Hispano-Flemish Style: Art, Commerce, and Politics in Fifteenth-Century Castile.

PAULA MUES ORTS teaches at the Escuela Nacional de Conservación, Restauración y Museografía, Instituto Nacional de Antropología e Historia, Mexico City. She is the author of important studies, including El arte maestra: Traducción novohispana de un tratado pictórico italiano and La libertad del pincel: Los discursos sobre la nobleza de la pintura en la Nueva España. Her doctoral thesis focused on the painter José de Ibarra.