Sie haben sich erfolgreich zum "Mein Buchentdecker"-Bereich angemeldet, aber Ihre Anmeldung noch nicht bestätigt. Bitte beachten Sie, dass der E-Mail-Versand bis zu 10 Minuten in Anspruch nehmen kann. Trotzdem keine E-Mail von uns erhalten? Klicken Sie
hier
, um sich erneut eine E-Mail zusenden zu lassen.
Playing the Game
The History of adidas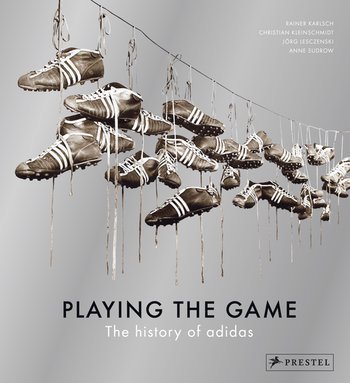 This history of adidas, one of the world's most innovative global companies, looks beyond the trademark three stripes to show how the company has grown and evolved over time.
Founded in a small town in Bavaria, Germany, the adidas brand has, for nearly a century, been outfitting international sports stars and pop culture icons such as David Beckham, Zinédine Zidane, and Run-DMC as well as everyday men, women, and children across the globe. The story of this evolution – illustrated with numerous historic photographs – is entwined with history, corporate trends, and the emergence of sports as a major factor in the world economy. Starting with the beginnings of the original Dassler brothers' company in the time of the Weimar Republic and National Socialism, this book reveals the first academically-based look at the history of the family and the adidas company which was officially founded in 1949 after the brothers' separation. Using a worldwide range of sources, the authors also examine brand strategies and globalization since the 1960s. Since its beginnings, the name 'adidas' has been shrouded in legend and, in this special look at the rise of a global company, readers will learn the true story behind the brand.
---
Hardcover, 400 pages, 23,0 x 25,0 cm, 9.1 x 9.8 in, 160 color illustrations
ISBN: 978-3-7913-5830-7
Published:
US February 19, 2019
UK December 17, 2018
Status of delivery: This title is available.
Biography
Rainer Karlsch holds a PhD in history, and is a research associate at the Institute of Contemporary History Munich—Berlin. In 1996 he was awarded the Stinnes Foundation's First Prize for Corporate History for his book on the history of reparations.

Professor Christian Kleinschmidt is head of the Institute for Economic and Social History at the Philipps University Marburg in Germany. His latest book, Wirtschaftsgeschichte der Neuzeit (An Economic History of the Modern Era), was published in 2017.

Jörg Lesczenski holds a PhD in history, and is a research associate at the Goethe University Frankfurt. He has published widely on economic history, including a biography of August Thyssen.

Anne Sudrow holds a PhD in history, and from 2010 to 2018 was senior researcher in economic history at the Center for Contemporary History Potsdam in Germany. She was visiting professor for the history of technology at the University of Technology in Berlin from 2016 to 2017. She has published widely on economic history and the history of technology, including Der Schuh im Nationalsozialismus. Eine Produktgeschichte im deutsch-britisch-amerikanischen Vergleich (The Shoe Under National Socialism. A Comparative Product History in Germany, Britain, and the USA) which was published in 2010.