Sie haben sich erfolgreich zum "Mein Buchentdecker"-Bereich angemeldet, aber Ihre Anmeldung noch nicht bestätigt. Bitte beachten Sie, dass der E-Mail-Versand bis zu 10 Minuten in Anspruch nehmen kann. Trotzdem keine E-Mail von uns erhalten? Klicken Sie
hier
, um sich erneut eine E-Mail zusenden zu lassen.
Someday is Now
The Art of Corita Kent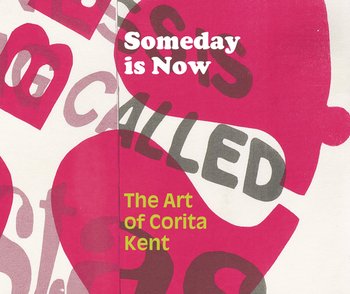 This full-scale survey of Corita Kent's work includes prints and ephemera from all phases of her life, revealing her importance as an activist printmaker and a stylistic innovator in graphic design.

Artist, activist, teacher, and devout Catholic Corita Kent (1918–1986) eloquently combined her passions for faith and politics during her rich and varied career. As a teacher at LA's Immaculate Heart College, she fostered a creative and collaborative arts community and developed an interest in printmaking. Her posters, murals, and signature serigraphs combined messages of love and faith with images from popular culture and inventive use of type and color. For Kent, printmaking was a populist medium to communicate with the world around her. This activist spirit came most alive in the 1960s, when her posters and murals addressed subjects like racism and poverty, U.S. military brutalities in Vietnam, and conflicts between radical and conservative positions in the Catholic Church. Even after the war, and after she had left the church, she continued to be active in Boston's urban issues, producing prints and commissioned works until her death in 1986. Full of the lively, colorful work that was so iconically hers, this volume presents four decades of a life dedicated to serving others through and with the language of art.
---
Hardcover with jacket, 255 pages, 25,5 x 30,5 cm, 10.0 x 12.0 in, 300 color illustrations
ISBN: 978-3-7913-5233-6
Published:
US June 17, 2013
UK June 17, 2013
Status of delivery: This title is available.
Biography
Ian Berry is Associate Director and The Susan Rabinowitz Malloy Curator of The Frances Young Tang Teaching Museum and Art Gallery at Skidmore College.
MICHAEL DUNCAN is a critic and independent curator.
Cynthia Burlingham
Cynthia Burlingham is Deputy Director of Collections and Director of the Grunwald Center for the Graphic Arts at the Hammer Museum, Los Angeles.
More books from the authors