Sie haben sich erfolgreich zum "Mein Buchentdecker"-Bereich angemeldet, aber Ihre Anmeldung noch nicht bestätigt. Bitte beachten Sie, dass der E-Mail-Versand bis zu 10 Minuten in Anspruch nehmen kann. Trotzdem keine E-Mail von uns erhalten? Klicken Sie
hier
, um sich erneut eine E-Mail zusenden zu lassen.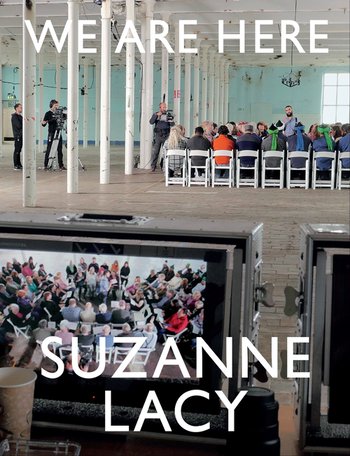 Hardcover
$
50.00
|
£
39.99
(* recommended retail price)
This generously illustrated book sheds light on the groundbreaking career of Suzanne Lacy, an artist, writer, and educator whose participatory, socially engaged performances helped define social practice art and continue to resonate with many of the most pressing issues in American culture.
Over the past five decades the genre-defying art of Suzanne Lacy has taken multiple forms, spanning performance, sculpture and video installations, and photography. Organizing public encounters that emphasize intensive community dialogue and collaborative choreography, Lacy has explored many political and social contexts that remain deeply relevant—including race, class, and gender equity; ageism; and violence against women. This record of Lacy's career is anchored by an extensively illustrated survey of selected works that groups related projects and illuminates their core themes and approaches. Featuring photographs, stills, ephemera, and other primary documentation, this section incorporates a selection of reprinted texts and newly commissioned first-person accounts by Lacy's collaborators, a group that includes critics and artists such as Judy Chicago, Allan Kaprow, Andrea Bowers, Moira Roth, and Lucy Lippard. Extensive, penetrating, and visually compelling, this long-awaited monograph documents the bold career of an artist whose profound attentiveness to social dynamics, politics, and context continues to provoke and inspire today.
---
Hardcover, 268 pages, 22,0 x 28,5 cm, 8.7 x 11.0 in, 489 color illustrations, 98 b/w illustrations
ISBN: 978-3-7913-5838-3
Published:
US April 03, 2019
UK March 18, 2019
Status of delivery: This title is available.
Biography
Rudolf Frieling is Curator of Media Arts at the San Francisco Museum of Modern Art.

Lucía Sanromán is Director of Visual Arts at the Yerba Buena Center for the Arts (YBCA) in San Francisco.

Dominic Willsdon is Leanne and George Roberts Curator of Education and Public Practice at the San Francisco Museum of Modern Art.