Sie haben sich erfolgreich zum "Mein Buchentdecker"-Bereich angemeldet, aber Ihre Anmeldung noch nicht bestätigt. Bitte beachten Sie, dass der E-Mail-Versand bis zu 10 Minuten in Anspruch nehmen kann. Trotzdem keine E-Mail von uns erhalten? Klicken Sie
hier
, um sich erneut eine E-Mail zusenden zu lassen.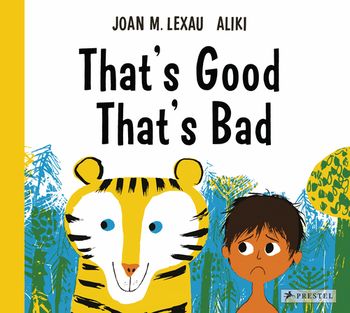 Hardcover
$
17.95
|
£
12.99
(* recommended retail price)
This vintage children's classic about the power
of storytelling is filled with eye-catching new
reproductions of Aliki's iconic illustrations.
A boy is sitting on a rock in the jungle when a tiger approaches him. "Run!" says the tiger, "or I will eat you!" But the boy is too tired to run and in order to avoid being eaten he tells the tiger a story. What follows is a thrilling tale that will captivate young readers just as thoroughly as it captivated the hungry tiger. Kids will enjoy waiting breathlessly for every flip of the page as the boy tells his story involving a rhinoceros and a crocodile. Originally published in 1963 and out of print for many years, this book by award-winning illustrator and author Aliki features fabulous vintage style illustrations. This new edition preserves the vivid colors of the original book while introducing a new generation of young readers to a skillfully told story-within-astory with a surprising and satisfying ending.
---
Original Title: C'est bien! C'est affreux!
Originally published by: Lievre de Mars
Hardcover, 48 pages, 27,6 x 24,7 cm, 10.9 x 9.7 in, 21 color illustrations
ISBN: 978-3-7913-7419-2
Published:
US March 24, 2020
UK March 05, 2020
Status of delivery: This title is available.
Biography
Joan M. Lexau
Joan M. Lexau is an award-winning author of more than 50 children's books. She lives in St. Paul, Minnesota.
Aliki
Aliki has written and illustrated more than sixty books of fiction and nonfiction for children. In 1991, she received the Pennsylvania School Librarians' Association Award. She lives in New York.