Sie haben sich erfolgreich zum "Mein Buchentdecker"-Bereich angemeldet, aber Ihre Anmeldung noch nicht bestätigt. Bitte beachten Sie, dass der E-Mail-Versand bis zu 10 Minuten in Anspruch nehmen kann. Trotzdem keine E-Mail von uns erhalten? Klicken Sie
hier
, um sich erneut eine E-Mail zusenden zu lassen.
Thomas Struth. Unconscious Places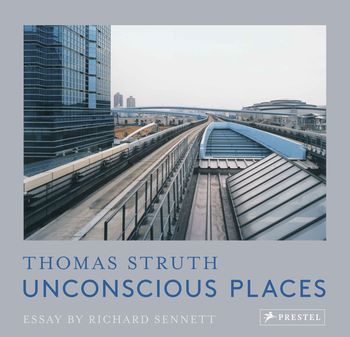 Hardcover
$
50.00
|
£
35.00
(* recommended retail price)
Thomas Struth's inimitable style is showcased in this new compact edition of his striking collection of street views from 1970 to 2010.
Thomas Struth is one of the best-known photographers to come out of the school of Bernd and Hilla Becher. In this celebrated volume, Struth presents a series of urban streetscapes from cities such as Edinburgh, Lima, Pyongyang, Naples, and New York City, all taken in similar conditions—devoid of human activity. Struth refers to these mundane buildings, unpopulated streets and anonymous facades as »unconscious places«—environments that are imbued with meaning only by the viewer. Captured with exquisite technical prowess and presented with powerful, restrained neutrality, Struth's images allow us to fully appreciate a city's character—from its telephone wires above to the pavement below. Renowned sociologist Richard Sennett's illuminating essay reveals how Struth's sober, lucid photography leads the viewer to create their own conclusions, rather than forcing a perspective. The resulting interplay among photographer, viewer, and landscape may hold the key to understanding how architecture affects our daily lives.
---
Hardcover with jacket, 264 pages, 24,0x22,8, 128 color illustrations, 100 b/w illustrations
ISBN: 978-3-7913-8668-3
Published:
US September 15, 2020
UK September 03, 2020
Status of delivery: This title is available.
Biography
Thomas Struth
Thomas Struth is one of Germany's best-known contemporary photographers. His work has been widely shown in exhibitions such as The Metropolitan Museum of Art in New York, Museo Nacional del Prado in Madrid, Whitechapel Gallery in London, and Haus der Kunst in Munich. He lives in Berlin and New York.
Richard Sennett
Richard Sennett is the Centennial Professor of Sociology at the London School of Economics. He is Founding Director of the New York Institute for the Humanities and in 2018 was appointed Officer of the Order of the British Empire and elected Fellow of the British Academy.