Sie haben sich erfolgreich zum "Mein Buchentdecker"-Bereich angemeldet, aber Ihre Anmeldung noch nicht bestätigt. Bitte beachten Sie, dass der E-Mail-Versand bis zu 10 Minuten in Anspruch nehmen kann. Trotzdem keine E-Mail von uns erhalten? Klicken Sie
hier
, um sich erneut eine E-Mail zusenden zu lassen.
William Kentridge - The Head & The Load are the trouble of the neck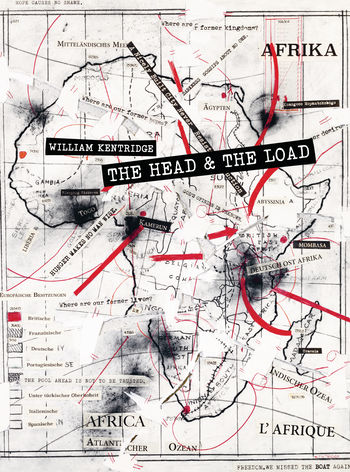 Explore William Kentridge's remarkable
performance piece, The Head & The Load, and
discover how music, dance, writing, and fine
art are combined to tell the haunting story of
Africans during WWI
For over thirty years, William Kentridge has been combining fine arts, performance, theatre, and opera to create dreamlike, political, and humanist works. His installation, films, and drawings often deal with the political situation in South Africa, apartheid, and the consequences of colonialism. This book gives an in-depth examination of his performance piece The Head & The Load, which explores the role of Africa during World War I. Throughout the war, more than one million Africans carried provisions and military equipment in hazardous conditions for British, French, and German troops at minimal or no pay. William Kentridge tells the story of these African porters who ensured the success of the victors, but remain in the shadows. This history, rarely studied today, unfolds in a staged tableau combining music, dance, acting, screenings, and mechanized sculptures. The book includes photos and text from the performance, essays, and artworks created specifically by Kentridge to complement the play. Accompanied by an international cast of singers, actors, and dancers, and with music composed by Philip Miller, The Head & The Load is a powerful and multifaceted work that reconsiders colonial history and its repercussions in today's world.
---
Original Title: William Kentridge The Head & The Load are the trouble of the neck
Originally published by: Xavier Barral
Hardcover, 348 pages, 23x31, 240 color illustrations
ISBN: 978-3-7913-8718-5
Published:
US September 01, 2020
UK April 03, 2020
Status of delivery: This title is available.
Biography
William Kentridge
WILLIAM KENTRIDGE is a South African artist internationally renowned for his prints, drawings, and animated films. His artworks are in many collections, including Tate Modern in London, the Museum of Modern Art in New York, and the Centre Pompidou in Paris. His "spectacle-performances", including The Head & the Load, have been shown at the Festival d'Avignon (2012), the thirteenth documenta in Kassel, and MassMOCA, among other prestigious festivals and venues.