Sie haben sich erfolgreich zum "Mein Buchentdecker"-Bereich angemeldet, aber Ihre Anmeldung noch nicht bestätigt. Bitte beachten Sie, dass der E-Mail-Versand bis zu 10 Minuten in Anspruch nehmen kann. Trotzdem keine E-Mail von uns erhalten? Klicken Sie
hier
, um sich erneut eine E-Mail zusenden zu lassen.
World Piecebook
Global Graffiti Drawings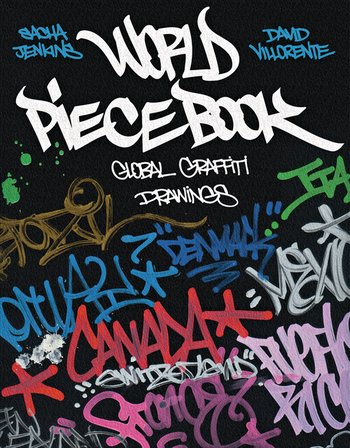 Graffiti goes Global
Graffiti goes global in this third volume of never–before–published blackbook drawings from writers around the world.

Like the hugely successful volumes it follows, this latest collection mimics that most valuable of graffiti gear—the blackbook. Nearly 150 private drawings by top artists from every corner of the globe are featured in this volume. Mirroring the revolutionary format of their previous books Piecebook and Piecebook Reloaded, Jenkins's and Villorente's World Piecebook presents rare and personal illustrations straight from the collections of artists such as Atome, Demote, and Casino from Australia; Kas and Resm from Belgium; Swet, Bates, and Rens from Denmark; Virus, Zek, and Bacon from Canada; Lunar and Dock from Croatia; Oker, Drax, and Zombie from England; Lemon and Angel from Serbia; Os Gemeos, Nami, and Rio from Brazil; Dare and Ders from Switzerland; Shiro, Sniper, and Nezm from Japan; Rek, Ske, and Blend from Puerto Rico, and more. With an introduction by Sacha Jenkins, World Piecebook will be a must-have book for graffiti writers and their fans around the globe.
---
Hardcover, 176 pages, 21,5 x 27,5 cm, 145 color illustrations
ISBN: 978-3-7913-4468-3
Published:
US May 20, 2011
UK April 30, 2011
Status of delivery: This title is available.
Other titles like "World Piecebook"
Biography
David Villorente
David Villorente was the editor of "Source" magazine's graffiti pages for 12 years, writing under his tag, "Chino." He is the co-author of "Mascots & Mugs: The Characters and Cartoons of Subway Graffiti".
Links
Global Graffiti Culture: World Piecebook Part 1
Watch video
Global Graffiti Culture: World Piecebook Part 2
Watch video