Sie haben sich erfolgreich zum "Mein Buchentdecker"-Bereich angemeldet, aber Ihre Anmeldung noch nicht bestätigt. Bitte beachten Sie, dass der E-Mail-Versand bis zu 10 Minuten in Anspruch nehmen kann. Trotzdem keine E-Mail von uns erhalten? Klicken Sie
hier
, um sich erneut eine E-Mail zusenden zu lassen.
YUA: Spirit of the Arctic
Highlights from the Thomas G. Fowler Collection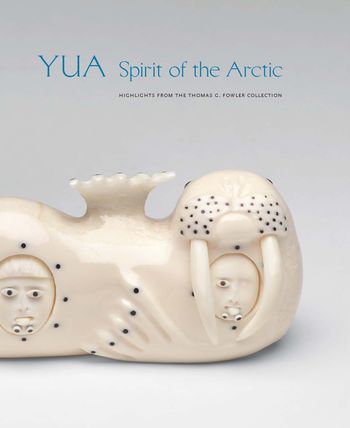 Hardcover
$
40.00
|
£
29.99
(* recommended retail price)
This superb collection of works by Native Alaskan and Canadian Inuit artists celebrates their creativity and skill while highlighting the history and culture of the Arctic.
Over the course of his life, artist, adventurer, and collector Thomas G. Fowler gathered a rich and diverse group of works by Native artists from the Arctic. He was inspired by the concept of yua, a recognition that all things, including objects, have a unique inner essence or spirit. The works in his collection embody this view and highlight the raw materials used to make them—walrus tusk, whale bone, driftwood, and stone. With works dating from 300 BCE to the 21st century, his collection includes objects meant to be used and admired: utensils, weapons, dance regalia, kayak models, decorative pipes, and cribbage boards. It also features mixed-media sculptures by contemporary artists such as Abraham Anghik Ruben, David Ruben Piqtoukun, Judas Ullulaq, and Susie Silook. With color illustrations highlighting eighty objects, this book explores a variety of topics relating to the North American Arctic region: the ancient cultures of the Bering Strait, historic ways of life in northwestern Alaska, the ethos of Yup'ik dance, and the history of collecting Arctic art. Combining art historical and anthropological essays with lively, personal accounts from modern artists and scholars, this volume explores the aesthetics of Arctic life and the interwoven natures of the spiritual and the quotidian.
---
Hardcover, 172 pages, 20,0 x 25,5 cm, 7.9 x 10.0 in, 125 color illustrations
ISBN: 978-3-7913-5945-8
Published:
US April 30, 2020
UK April 06, 2020
Status of delivery: This title is available.
Biography
Hillary C. Olcott
HILLARY C. OLCOTT is Assistant Curator in the Department of the Arts of Africa, Oceania, and the Americas at the Fine Arts Museums of San Francisco.