Sie haben sich erfolgreich zum "Mein Buchentdecker"-Bereich angemeldet, aber Ihre Anmeldung noch nicht bestätigt. Bitte beachten Sie, dass der E-Mail-Versand bis zu 10 Minuten in Anspruch nehmen kann. Trotzdem keine E-Mail von uns erhalten? Klicken Sie
hier
, um sich erneut eine E-Mail zusenden zu lassen.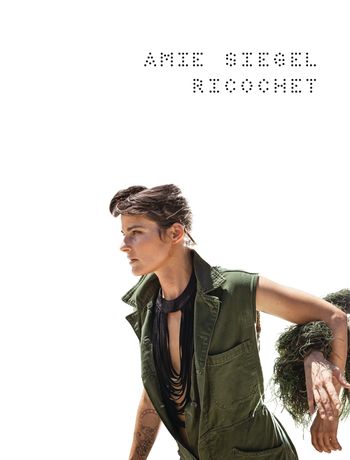 Paperback
$
60.00
|
£
45.00
(* recommended retail price)
This book presents the film, performance, and works on paper of Amie Siegel from her two exhibitions, Black Moon and Ricochet, at the Kunstmuseum Stuttgart.
Siegel's work is often characterized by duplication and repetition, by appropriation and adaptation, and not least by remaking. In 2011 and 2016, the Kunstmuseum Stuttgart presented two solo exhibitions of the work of Amie Siegel. These exhibitions, Black Moon and Ricochet, though separated by five years, were conceived as a single show unfolding over time and space. Rebounding between the shows, visual motifs and ideas have found their expression in the artist's concept of the catalogue. Instead of combining both presentations in a single publication, the artist, together with graphic designer Kerstin Riedel, created two mirrored books which are bound together into one volume. Opening the catalogue reveals two double spreads that offer endless possibilities to combine the illustrations of Siegel's artworks. The themes and motifs scattered across the exhibitions through performance, video, and works on paper include the archeology of cinema, image provenance, psychoanalysis, and economies of gender. The book includes essays by Tom McDonough and Sven Beckstette as well as a conversation between Amie Siegel and Ulrike Groos, director of Kunstmuseum Stuttgart.
---
Paperback, 192 pages, 22,6 x 29,6 cm, 8.9 x 11.4 in, 98 color illustrations
ISBN: 978-3-7913-5897-0
Published:
US September 03, 2019
UK March 20, 2019
Status of delivery: This title is available.
Biography
Ulrike Groos
ULRIKE GROOS is Director at the Kunstmuseum Stuttgart.

SVEN BECKSTETTE is Curator at the Nationalgalerie im Hamburger Bahnhof - Museum für Gegenwart - Berlin.
Sven Beckstette
Sven Beckstette is research curator at the Hamburger Bahnhof - Museum für Gegenwart - Berlin.