Sie haben sich erfolgreich zum "Mein Buchentdecker"-Bereich angemeldet, aber Ihre Anmeldung noch nicht bestätigt. Bitte beachten Sie, dass der E-Mail-Versand bis zu 10 Minuten in Anspruch nehmen kann. Trotzdem keine E-Mail von uns erhalten? Klicken Sie
hier
, um sich erneut eine E-Mail zusenden zu lassen.
The Deconstructive Impulse
Women Artists Reconfigure the Signs of Power, 1973-1991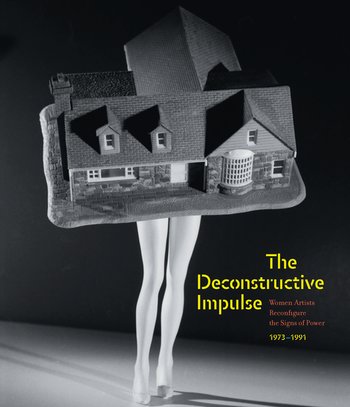 This survey of leading women artists from the late twentieth century examines the crucial feminist contribution to the deconstructivist movement.
Exhibition Itinerary: Neuberger Museum of Art, Purchase College, State University of New York, Purchase January 15–April 3, 2011
Nasher Museum of Art at Duke University, Durham, North Carolina August 25–December 5, 2011
Published in association with the Neuberger Museum of Art, Purchase College, State University of New York, Purchase.

The practice of deconstructivism, a term describing artwork that examines the imagery of the popular media, was significantly shaped by dozens of important female artists during a critical era in late twentieth-century visual culture. These artists subverted their source material, often by appropriating it, to expose the ways that commercial images express imbalances of power. The mechanisms of power in mainstream art institutions were also subject to these artists' critique. This exhibition catalogue features a diverse group of North American women whose transformative and often provocative work deals with gender, sexual, racial, ethnic, and class-based inequities. Essays by leading critics discuss such topics as the importance of critical theory and sexual politics in the art world of the 1980s; how domesticity is represented in commercial media and the art that addresses it; the importance of psychoanalytic theory as a critical framework; and the sexualization of inanimate objects.
---
Paperback with jacket, 176 pages, 22,9 x 26,7 cm, 9.0 x 10.5 in, 120 color illustrations
ISBN: 978-3-7913-5120-9
Published:
US February 20, 2011
UK January 31, 2011
Status of delivery: This title is available.
Biography
Nancy Princenthal, a New York-based art critic and lecturer, and Senior Editor at Art in America, has written on contemporary art for 25 years. She is the author of numerous books on art and a co-author of After the Revolution: Women Who Transformed Contemporary Art (Prestel).
Helaine Posner
HELAINE POSNER is Chief Curator at the Neuberger Museum of Art, SUNY Purchase.