Sie haben sich erfolgreich zum "Mein Buchentdecker"-Bereich angemeldet, aber Ihre Anmeldung noch nicht bestätigt. Bitte beachten Sie, dass der E-Mail-Versand bis zu 10 Minuten in Anspruch nehmen kann. Trotzdem keine E-Mail von uns erhalten? Klicken Sie
hier
, um sich erneut eine E-Mail zusenden zu lassen.
Why Your Five-Year-Old Could Not Have Done That
From Slashed Canvas to Unmade Bed. Modern Art Explained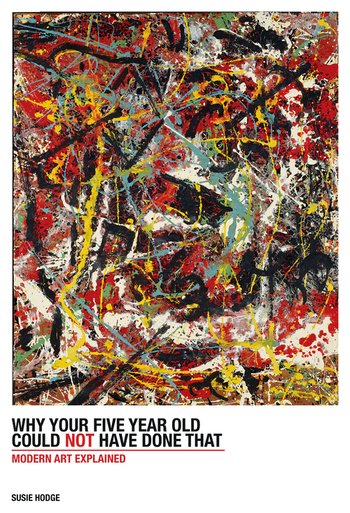 For skeptics and fans alike, this engaging and thought-provoking look at 100 controversial paintings and sculptures reveals just what is so special about artworks of apparent simplicity.

Come on, you know you've thought it — while viewing a »masterpiece« of abstract art, you mutter, »A kid could do that.« Here Susie Hodge, author of »How to Survive Modern Art«, explains why the best examples of modern art are actually the result of sophisticated thought and serious talent. From Marcel Duchamp's notorious Fountain and the scribbles of Cy Twombly to Mark Rothko's multiforms and Carl Andre's uncarved blocks, Hodge addresses critical outrage with a revealing insight into the technical skill, layering of ideas, and sheer inspiration behind each work. In cleverly organized chapters such as »Objects/ Toys«, »Provocations/Tantrums«, and »People/Monsters«, Hodges thoughtfully and definitively lays bare the perception that modern art is mere child's play.

"An indispensable, well-organized guide that employs impartial examination of modern works of art." —School Arts Magazine

This title is only available in North America.
---
Paperback, with flaps, 224 pages, 19,5 x 13,0 cm, 100 color illustrations
ISBN: 978-3-7913-4735-6
Published:
US September 01, 2012
Status of delivery: This title is available.
Biography
Susie Hodge
Susie Hodge has written more than 50 books on art history, artistic instruction, and design, including »How to Survive Modern Art« and »50 Art Ideas You Really Need to Know«.