Sie haben sich erfolgreich zum "Mein Buchentdecker"-Bereich angemeldet, aber Ihre Anmeldung noch nicht bestätigt. Bitte beachten Sie, dass der E-Mail-Versand bis zu 10 Minuten in Anspruch nehmen kann. Trotzdem keine E-Mail von uns erhalten? Klicken Sie
hier
, um sich erneut eine E-Mail zusenden zu lassen.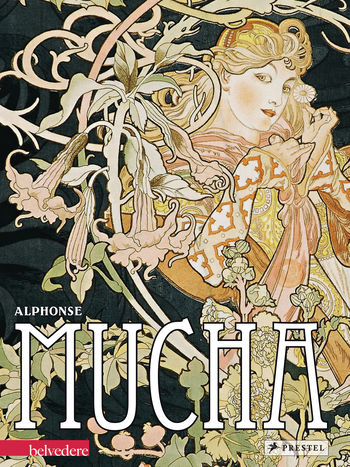 Hardcover
$
55.00
|
£
39.99
(* recommended retail price)
Now available in a new edition, this gorgeous volume surveys the entire breadth of Alphonse Mucha's work—from illustration and decorative arts to his photography and the historical paintings that were his life's passion.

Alphonse Mucha is known largely for having originated Art Nouveau, when his poster of the actress Sarah Bernhardt became a legendary icon of the movement. Mucha went on to design hundreds of pieces in the decorative arts field, but later distanced himself from the style he pioneered, devoting his time and energy to painting. This book presents the full array of Mucha's artistic contributions—not only his posters and jewelry designs but also his design for the pavilion of Bosnia and Herzegovina at the 1900 world's fair. The book also contains his works on canvas, which include pastels and frescoes, and his magnum opus, The Slavic Epic, a series of 20 paintings depicting the history of his native people. A stunning selection of nearly 500 color illustrations is accompanied with essays that explore Mucha's style and inspirations, his transition away from the decorative arts, and his forays into photography. Fans of Art Nouveau will treasure this dazzling and unique study of the artist and his contributions to design and illustration.
---
Hardcover, 356 pages, 24,0 x 32,0 cm, 9.4 x 12.6 in, 403 color illustrations, 78 b/w illustrations
ISBN: 978-3-7913-5397-5
Published:
US August 25, 2014
UK July 23, 2014
Status of delivery: This title is available.
Biography
Agnes Husslein-Arco
Agnes Husslein-Arco is Director of the Belvedere Museum in Vienna, Austria. Her books include »Egon Schiele: Self-Portraits and Portraits« (Prestel).
More books from the authors