Sie haben sich erfolgreich zum "Mein Buchentdecker"-Bereich angemeldet, aber Ihre Anmeldung noch nicht bestätigt. Bitte beachten Sie, dass der E-Mail-Versand bis zu 10 Minuten in Anspruch nehmen kann. Trotzdem keine E-Mail von uns erhalten? Klicken Sie
hier
, um sich erneut eine E-Mail zusenden zu lassen.
Marisa Merz
The Sky Is a Great Space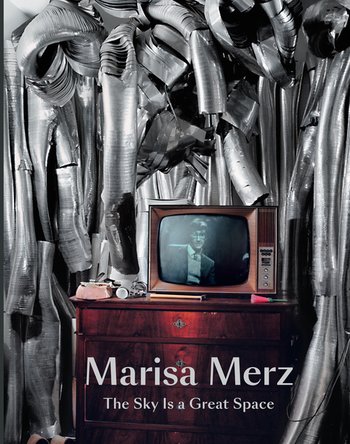 This generously illustrated book offers readers the chance to appreciate the full range of works by Marisa Merz, winner of the 2013 Golden Lion lifetime achievement award at the Venice Biennale. This volume traces Merz's artistic evolution from early experiments with non-traditional materials and processes, to intricately constructed installations of the 1970s and the enigmatic ceramic heads of the 1980s and '90s. Authoritative essays explore the rise of international women's art in the 1960s and '70s and Merz's own place in Italy's postwar art history. As the sole female protagonist of Arte Povera she is one of the few Italian women to exhibit in major venues internationally. Merz's challenging and evocative body of work is deeply personal and resistant to the categories of art history, including Arte Povera and international feminist art, with which she was associated. Previously unpublished texts and poetry by the artist, and an illustrated chronology, complement this comprehensive look at an enormously influential artist.
---
Hardcover, 320 pages, 22,0 x 27,3 cm, 8.7 x 10.7 in, 231 color illustrations, 87 b/w illustrations
ISBN: 978-3-7913-5567-2
Published:
US January 02, 2017
UK January 02, 2017
Status of delivery: This title is available.
Biography
Connie Butler is the chief curator at the Hammer Museum. She is the co-author of Made in L.A. 2014 (DelMonico Books•Prestel).
CONNIE BUTLER is Chief Curator at the Hammer Museum. IAN ALTEVEER is Associate Curator of Modern and Contemporary Art at the Metropolitan Museum of Art. CAROLYN CHRISTOV-BAKARGIEV is Director of Castello di Rivoli and GAM Torino. LESLIE COZZI is Curatorial Associate at the Grunwald Center for the Graphic Arts, Hammer Museum. TERESA KITTLER is an art historian. LUCIA RE is Professor of Italian and Gender Studies at the University of California, Los Angeles.
More books from the authors