Sie haben sich erfolgreich zum "Mein Buchentdecker"-Bereich angemeldet, aber Ihre Anmeldung noch nicht bestätigt. Bitte beachten Sie, dass der E-Mail-Versand bis zu 10 Minuten in Anspruch nehmen kann. Trotzdem keine E-Mail von uns erhalten? Klicken Sie
hier
, um sich erneut eine E-Mail zusenden zu lassen.
Paul McCarthy
Head Space, Drawings 1963-2019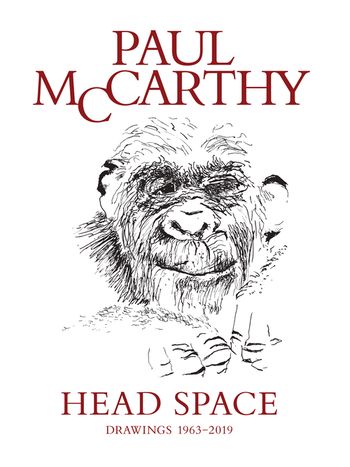 Hardcover
$
60.00
|
£
45.00
(* recommended retail price)
This book looks at Paul McCarthy's drawings, a rarely examined aspect of his oeuvre, and offers a greater understanding of the work of this provocative artist.
A prolific social critic, Paul McCarthy is best known for his work in performance, installation, film, and sculpture. His works reference American cultural archetypes such as Disneyland, B movies, soap operas, comic books, and contemporary politics. His drawings and films skewer, often profanely, mass media and consumer-driven American society by pointing to its hypocrisy, double standards, and repression. McCarthy's work is also deeply influenced by European avant-garde art, especially by figures such as Joseph Beuys and Samuel Beckett, and Viennese Actionism. McCarthy's drawings share the same visual language as his three-dimensional works: violence, humor, sex, politics, art history, and popular culture. Featuring 50 years of works on paper in charcoal, pencil, pen and ink, and collage, this selection includes pieces from McCarthy's renowned White Snow series, his contributions to the Plato in L.A. project at the Getty Museum, and recent sketches in which, unsurprisingly given the current political climate, McCarthy's glovesoff approach feels both necessary and inevitable. This book reveals an important aspect of his drawing techniques, and situates his works on paper as one of the most significant in contemporary art.
---
Hardcover, 256 pages, 25,0 x 32,0 cm, 9.8 x 12.6 in, 400 color illustrations
ISBN: 978-3-7913-5946-5
Published:
US February 04, 2020
UK February 04, 2020
Status of delivery: This title is available.
Biography
Aram Moshayedi
ARAM MOSHAYEDI is a writer and Curator at the Hammer Museum in Los Angeles where he has organized numerous exhibitions. He is the author of Made in L.A. 2016 and Stories of Almost Everyone (both by DelMonico Books•Prestel) and has contributed to numerous publications including Artforum, BOMB Magazine, Art in America, and Frieze.

CONNIE BUTLER is Chief Curator at the Hammer Museum in Los Angeles. She is the author of Marisa Merz and coauthor of Scorched Earth and Made in L.A. 2014 (all by DelMonico Books•Prestel).
Connie Butler
Connie Butler is the chief curator at the Hammer Museum. She is the co-author of Made in L.A. 2014 (DelMonico Books•Prestel).
More books from the authors