Sie haben sich erfolgreich zum "Mein Buchentdecker"-Bereich angemeldet, aber Ihre Anmeldung noch nicht bestätigt. Bitte beachten Sie, dass der E-Mail-Versand bis zu 10 Minuten in Anspruch nehmen kann. Trotzdem keine E-Mail von uns erhalten? Klicken Sie
hier
, um sich erneut eine E-Mail zusenden zu lassen.
Olaf Hajek's Fantastic Fruits
Recommended age group: 6 +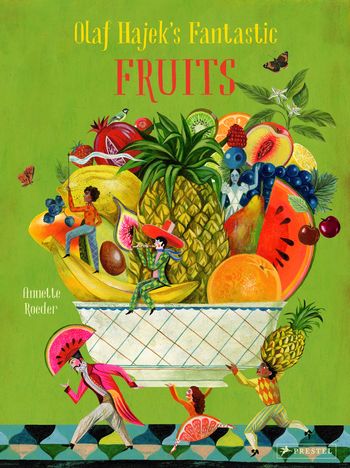 19.95
|
14.99
(* recommended retail price)
In this beautiful exploration of everyone's favorite fresh food, Olaf Hajek's brilliantly colored and uniquely stylized paintings are accompanied by informative texts that will enthrall readers of all ages.
As in his previous books, »Flower Power« and »Veggie Power«, Hajek's whimsical, imaginative paintings—inspired by a variety of artistic traditions—situate each fruit in a fascinating cultural context. Each ›portrait‹ features delightful pictorial clues about how the fruits are grown and consumed. Opposite the illustrations, Annette Roeder's engaging texts offer illuminating and often surprising facts from throughout history and contemporary life. As mouthwatering as a summer peach, and as surprising as a pomegranate's seeds, this book serves up page after page of delicious, nutritious, but most of all fun portions of fruity knowledge from all over the world.
---
Hardcover, 40 pages, 26x35, 17 color illustrations
ISBN: 978-3-7913-7506-9
Release date:
Published:
US April 12, 2022
UK March 15, 2022
Biography
Olaf Hajek is an award-winning painter and illustrator whose work has been exhibited in Germany, the US, and South Africa. His list of commercial clients includes The New York Times, The New Yorker, The Washington Post, The Wall Street Journal, Audubon, Stern, Bombay Sapphire, Anthropologie, Mont Blanc, Macy's and Hermes. His most recent books are »Flower Power« and »Veggie Power«, both published by Prestel. He lives in Berlin, Germany.
Annette Roeder, architect and mother of three children, is the successful illustrator and author of numerous children's books. She has been writing art and architecture books for children, picture books and children's books, as well as novels for adults for over twenty years. She lives with her family on the outskirts of Munich, Germany.
Olaf Hajek is an illustrator and graphic designer based in Berlin. His illustrations have been featured in publications such as The Financial Times, The New Yorker, Rolling Stone, The Wall Street Journal, The New York Times, GQ and Architectural Digest, and many high-calibre companies seek him out for their ad campaigns and packaging design. His art has been shown in solo exhibitions in Hamburg, Munich, Berlin, Atlanta, Cape Town and London.
More books from the authors