Sie haben sich erfolgreich zum "Mein Buchentdecker"-Bereich angemeldet, aber Ihre Anmeldung noch nicht bestätigt. Bitte beachten Sie, dass der E-Mail-Versand bis zu 10 Minuten in Anspruch nehmen kann. Trotzdem keine E-Mail von uns erhalten? Klicken Sie
hier
, um sich erneut eine E-Mail zusenden zu lassen.
Street Art's Rising Stars E
24 Artists You Should Know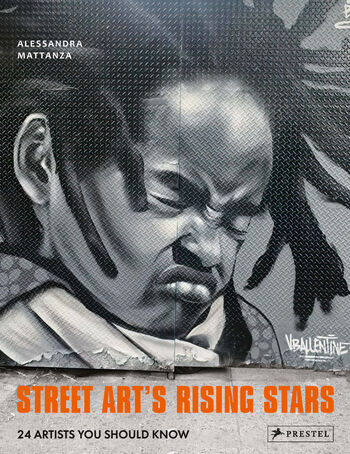 Making their statements on the walls of the world's major cities, these emerging artists are also making their way to the forefront of an increasingly crowded genre.
As street artists move from the fringe to the mainstream, it's hard to know who is a true talent and who's just a flash in the pan. Filled with stunning photography and portraits of each artist, this book identifies twenty rising stars whose imaginative and technically brilliant works are bringing them to the forefront of the genre. Each artist is profiled in multiple-page spreads that include background texts, portraits, and a sampling of their work. Included here are London-based artist Ben Slow, whose black ink and deeply expressive faces grace a number of buildings in the UK capital; Parisian artist Ardif, whose hybrid creatures merge machines with nature; Inti, who uses large, vividly colored murals to critique modern Chilean society; and American Vince Ballentine, whose technique combines elements of rap and hip hop. Whether rebelling against the establishment or bringing communities together; highlighting important issues or expressing a unique creative vision; these artists are living proof of street art's lasting influence, infinite adaptability, and remarkable diversity.
---
Original Title: Street Art's Rising Star
Originally published by: White Star
Hardcover, 240 pages, 23,5 x 30,5 cm, 9.3 x 12.0 in, 203 color illustrations
ISBN: 978-3-7913-8992-9
Published:
US October 31, 2023
UK October 03, 2023
Status of delivery: This title is available.
Biography
Alessandra Mattanza
Alessandra Mattanza is a foreign correspondent, contributor, and editor for several publishers in Italy and Germany. Her previous books are Street Art: Famous Artists Talk About Their Vision, Women Street Artists and Banksy