Sie haben sich erfolgreich zum "Mein Buchentdecker"-Bereich angemeldet, aber Ihre Anmeldung noch nicht bestätigt. Bitte beachten Sie, dass der E-Mail-Versand bis zu 10 Minuten in Anspruch nehmen kann. Trotzdem keine E-Mail von uns erhalten? Klicken Sie
hier
, um sich erneut eine E-Mail zusenden zu lassen.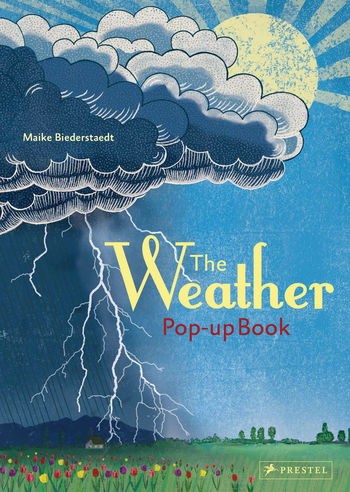 Hardcover
$
25.00
|
£
19.99
(* recommended retail price)
From raucous stormy seas to a welcomingly vivid rainbow, weather's most exciting moments come to brilliant life in this fantastic new popup book.
In her hugely successful books "Creatures of the Deep" and "What's in the Egg?", as well as her enormously popular series of greeting cards for the Museum of Modern Art, Maike Biederstaedt has established herself as one of the preeminent paper artists working today. Now Biederstaedt takes book engineering to new heights as she immerses readers in five electrifying weather scenarios. As each spread unfolds, a meticulously designed landscape emerges—a freighter balances like a nutshell between high waves in the sea; a tornado takes terrifying aim at a truck trying to outrun it; a rain-spewing storm cloud towers like a skyscraper over a farm house. Nature's delicate beauty emerges in the intricate shapes of a snowflake and in the luminous arc of a rainbow. Each page features an informative description of its weather event and the book closes with sobering commentary on the effects of climate change. A wondrous introduction to weather for budding climatologists, this is also an artistic tour de force that collectors will treasure.
---
Hardcover, 14 pages, 21x30
Pop-up book
ISBN: 978-3-7913-7393-5
Published:
US September 07, 2021
UK September 07, 2021
Status of delivery: This title is available.
Biography
Maike Biederstaedt an illustrator and award-winning paper engineer based in Berlin. In addition to her books Creatures of the Deep and What's in the Egg?, both published by Prestel, she is also the creator of a series of bestselling pop-up cards for the Museum of Modern Art in New York City.